This post is dedicated in honor of World Pancake Day!
Stack 'em up high.
There's nothing like the warmth of a stack of pancakes. Drizzle some syrup, add a slab of butter and you got yourself the best breakfast served. Pancakes are such a versatile dish though, and lately, pancake lovers have been upping the game at cafes, restaurants, and at home. Some like theirs with chocolate chips, others like blueberries, some add whipped cream on top and others like powdered sugar. There are a million ways to eat these flat cakes and they also vary in shape, size, texture, taste through different cultures but you know what we all have in common? We all sure enjoy them. Below are 18 spots in Bahrain that make insanely delicious pancakes you need to try!
READ ALSO: 8 Places In Bahrain To Grab Some Tasty Breakfast
This spot is found at Courtyard in Seef and is super chic in decor and menu. People tend to come here for breakfast lunch and dinner as they have beautiful and delicious food and the ambiance is stylish. Their pancakes are super fluffy and dressed in flavored whip cream and fruit.
A cute spot in Tubli to spend a chill morning or an evening catching up with friends. Cozy up to a book, grab a coffee and enjoy an order of tasty pancakes that are layered with cream, topped with strawberries and a generous drizzle of syrup to start your day.
Find this Chocalaterie in Seef Mall to fix all your chocolate cravings. If you like your pancakes chocolatey then you'll want to head over here where a stack of pancakes is covered completely in a thick layer of creamy chocolate with strawberries served on the side.
This gorgeous rooftop spot is the place to be for breakfast, brunch or lunch. The vibe is just so bright and will make you feel like you're on a vacation with all the flowers and light atmosphere. The pancakes are fluffy and come with servings of fruit and a blueberry syrup drizzle. Find it at the Merchant House in Downtown Manama.
This bakery in Amwaj makes more than freshly baked goods it is also a great spot for breakfast and brunch. The classic pancakes are topped with powdered sugar with serving of syrup and fruit on the side.
This spot in Seef serves a generous dish of fluffy pancakes drizzled in a thick chocolate sauce, powdered sugar and there are whip cream and strawberries on the side.
Come here for a spin on the classic pancake. At Otto, they make Ricotta pancakes and they come out super light and fluffy. They're very satisfying and filling and worth a try if you're a pancake fan. Find this great Italian spot in Janabiyah.
Come to Shakespeare & Co in Zallaq Springs for the classic pancakes we all know and love. They're really good especially if you like yours simple yet delicious, this is the place to go.
You can find this super chic spot beside Al Ali Mall in Seef. People love coming here for the nice ambiance and decor as well as the really tasty food. They've got a couple of options on the menu for pancakes that are super delicious and decadent. Get ready for the generous serving of chocolate drizzle and a big scoop of ice cream.
Find it in Nakheel Centre, this is a great breakfast spot serving delicious meals and a couple of pancakes on the menu. Eat the pancakes here which are so light and fluffy and you'll be satisfied completely.
Find it in Al Ali Mall, this spot is gorgeous and literally a plant lover's dream. They're pancakes look like they came out of a children's fairy tale book and the presentation is on point. Try the Honeycomb pancakes if you like honey but they also have more classic options.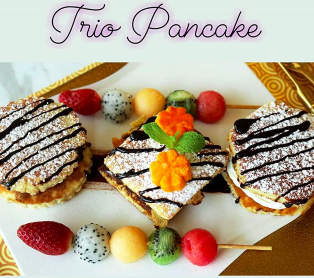 Found in Galleria Mall, this Italian/French Fusion spot takes on a creative approach to pancakes with 'The Trio'. This order comes in 3 types of flavors, one is square-shaped and served with cute fruit skewers.
This regionally popular spacious spot can be found in Amwaj and now Adliya. Try out the pancakes which come served with a bunch of strawberries, layered with Nutella, and served with a generous drizzle of syrup.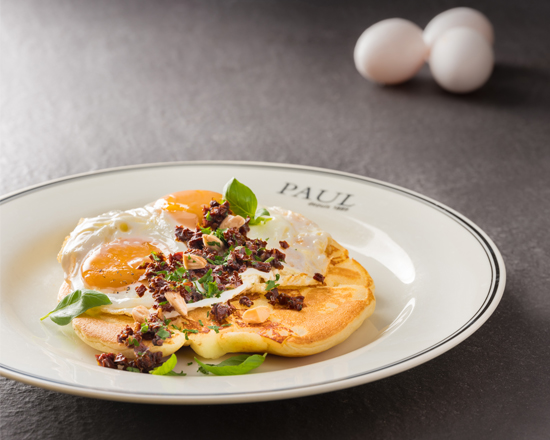 If you love pancakes but want to try a savory option then head to Paul's in Seef Mall for the Halloumi Pancakes that are served with two sunny-side-up eggs and hollandaise sauce on the side.
Right beside AMA University in Salmabad, Woodbury cafe has a bunch of different pancake dishes to satisfy your cravings and if you can't decide on which ones to get try the combination pancakes where you can get a tasty stack of pancakes dressed two ways and comes with ice cream on the side.
With a handful of locations across Bahrain, this spot is super popular for dessert and they do serve many varieties of pancakes. They are known for the generous sauce drizzles that come in many flavors. Try out the mini pancakes which come in three flavors like pistachio, chocolate, and lotus.
You can find this Irish restaurant in Adliya and Amwaj, serving your classic light and fluffy pancakes stacked high coming with syrup, butter, and ice cream. Come here if you're looking for the classic and timeless pancake that doesn't disappoint.
This chic Parisian style spot in Adliya makes these delicious pancakes that are simply delicious and so elegantly presented. Coming with a caramelized biscuit quenelle, cream cheese, and pure maple syrup it's an explosion of flavors that go together very well.