'tis the SZN.
Soup is one of the best remedies when it comes to avoiding feeling chilly during the winter!
Now that it's getting cold out here in Bahrain we thought we'd recommend some great soups to have when you need it this season.
READ ALSO: 6 Out Of This World Japanese Restaurants To Add To Your Bucket List In Bahrain
Traditional Onion Soup from PAUL
A hearty and really delicious soup inside a freshly baked loaf that'll win even those who don't like onions or onion soup. You can get it for 3.2BD found at City Centre and Seef Mall.
Cream Spinach Soup from Cappucino Cafe
Served inside a bread bowl and comes for 2.3BD is this tasty and healthy cream spinach soup from Capuccino Cafe! It'll make you feel all warm inside during the cold. Find it in Saar.
Cream of Mushroom Soup from Gusto
This soup is a hit with the local crowd! This spot makes good soup and this one is perfect for the winter. Find it Palm Square Budaiya for 3BD. They also have a delicious Tomato soup if mushrooms not your thing.
Crab Meat & Corn Egg Drop from Chaise Cafe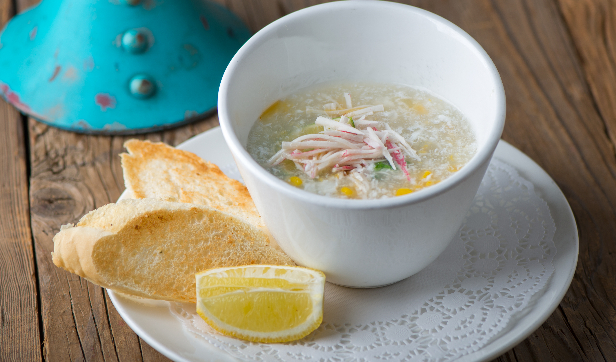 They've got 12 types of soup and they're all hearty and delicious! The Crab Meat & Corn Egg Drop Soup sits at 2.1BD as do most of their other soups. Chaise Cafe is in Adliya, Amwaj, and Sitra and is open from 6 PM – 2 AM and till 3 AM on weekends. They also have great shisha which is nice to enjoy outdoors but make sure you're dressed well for those evening chills!
Soup from Mamy Soup
Authentic Thai food in Bahrain from this local spot Mamy Soup. They have all the classic Thai dishes on the menu and soups like Tom Yum or Nantok (pictured above) and very reasonably priced. The soups hit the spot and are perfect for the cold season! Find this store in Al Hoora.
Tom Yum King from Thailand Restaurant
Thailand Restaurant is famous on the island for authentic Thai food and their Tom Yum Soup. If you like thai cuisine or want to try it out, make sure you come here! They're located in Adliya and are open from 12 PM to 1 AM.
Chicken Corn Soup at Tawa Restaurant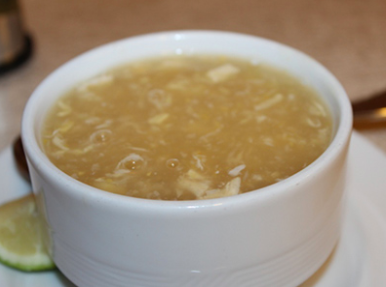 Tawa is a popular Pakistani restaurant with very economical prices serving all types of Pakistani dishes also Biryani and Chinese. All their soups are 1 BD. Find it on Shaikh Isa Avenue from 11:30 AM to 11:30 PM or on Talabat for delivery!
Al Osra Restaurant
Everyone who's grown up in Bahrain has spent some time at an Al Osra restaurant or knows what the food is like. It's a classic Bahrain staple and you should have food from here at least once to get Bahraini points. The soups range from 1 BD to 2 BD if you get the ones that come inside a loaf of bread. Good stuff! Find them at Yateem Centre, Exhibition Road, Muharraq, Riffa Lulu with hours of operation ranging from place to place but are around 9 AM to 12 AM more or less. Also available on Talabat.
Shrimp Wonton Soup from Shenzu
A popular authentic Chinese restaurant where for 2.3 BD you can get this delicious best-seller at Shenzu as well as a heartwarming Tom Yum Soup either in-store at their Juffair location or delivered through Talabat or call the store for delivery too. If you're feeling under the weather give these soups a try!