Looking for a treat for the weekend!
We asked and you answered! Here is a list of your top picks for Bahraini Halwa spots to sweeten up your day.
Halwa Gahwa
There is no Halwa spot like Halwa & Gahwa! If you're looking to experience Halwa in all its originality and modernization then don't miss out on Halwa & Gahwa for the most delicious Halwa experience in Bahrain. After all, It's a local favorite.
Murooj Almuharraq
Nothing says Bahraini Halwa for Friday like Murooj Al Muharraq. Head there if you love trying out different types of Bahraini Halwa.
AlHalwachi Sons
Get in the car and head to Alhalwachi Sons for the full traditional Bahraini halwa experience. AlHalwachi Bahraini family was given it's last name due to their excellent Halwa, so make sure to try it out.
Khulood Showaiter Sweets
Nothing says Bahraini Halwa with a twist louder than Roche Cafe, so we're not surprised it's one of your top favorite.
Jamal Showaiter Sweets
Is fresh Halwa your thing? If so, head over to Jamal Showaiter Sweets because it's as fresh as it could get.
Hussain Mohammed Showaiter Sweets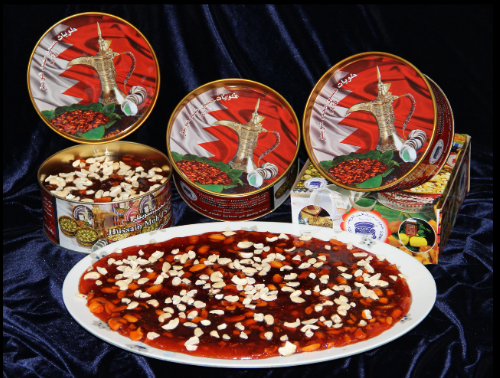 One of the oldest and most experienced shops in Bahrain in making halwa. Make sure to drop by and have a taste! Click here for the location!
Showaiter Delights
Showaiter delights have the best options to get for your family and friends gatherings.
Alkholood Sweets
We know Alkhulood sweets are a crowd favorite, after all, many tourists love their Athari Halwa as it's so rich.
Showaiter Sweets
Nothing says traditional Bahraini Halwa with a twist louder than Showaiter sweets, so we're not surprised that they made it on the list!
Bahrain Heritage Sweets
Munch on some hertiage halwa in Muharraq Sooq.
So there you have it! Let us know what's you favorite combination to eat with halwa?
Have a halwa-sweet weekend!
READ MORE:
Bahrain International Airshow Is Happening Next Month & You Can Get Your Tickets Now
READ MORE:
You Can Get Authentic Japanese Cheesecake at This Spot in Bahrain
READ MORE:
We Asked You to Name Your Fave Chef in Bahrain and Here Are Your Top Picks