Millions of people around the world are being asked to work from home for health precautions.
Whether this is currently your situation now or not, the internet is sharing memes of what it's like to be working from home and its accurate.
If you're looking for a little humor today then look below at these 24 memes whether you relate or not. And remember, we're all in this together!
READ ALSO: 15 Netflix Shows and Movies To Binge-Watch Right Now In Bahrain
1.
2.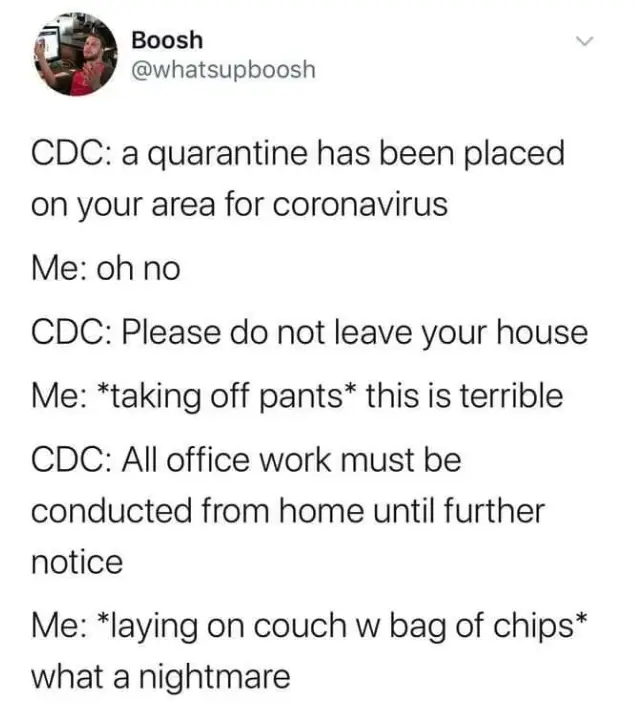 3.
Working from home pic.twitter.com/fi85PJhFze

— Irena Buzarewicz (@IrenaBuzarewicz) March 9, 2020
4.
Our home internet today.

Alyson & I workIng from home, online school for Edie. Huck has a fever. Hold on inter-webs! #COVID19 #Seattle pic.twitter.com/jN3c4InbVj

— Eric Branner (@dilkpants) March 11, 2020
5.
6.
7.
[ day 2 of self quarantine ]

me: i'm bored

my cat: have you tried dropping something into a shoe

— Taming Fred Savage (@FredTaming) March 15, 2020
8.
Quarantine day 6. pic.twitter.com/er652Oy3Ki

— jamie (@gnuman1979) March 16, 2020
9.
Pros of working from home:
– No pants
– Loud music

Cons of working from home:
– You have to make your own coffee
– You talk to yourself too much

— Kelly Vaughn ? (@kvlly) August 20, 2019
10.
Me trying to work from home as the internet keeps throwing memes at me #stayhomechallenge #Coronavirusnyc pic.twitter.com/IIMrTPPR6O

— Sir KMc (@iskevmc) March 17, 2020
11.
Me before working from home vs. me after a week of working from home pic.twitter.com/CmTkljdUya

— Mark Gongloff (@markgongloff) March 13, 2020
12.
#CoronavirusOutbreak #WorkFromHome

My office for next 15 days… pic.twitter.com/1HyzJ9XqgQ

— KBkeMemes (@KBkeMemes) March 17, 2020
13.
When you have your mum forward you the Work From Home reality through a meme!
?#COVID19 pic.twitter.com/kWFRYUcsmG

— Bharath (@Satnav_21) March 16, 2020
14.
When people discover that they're happier and more productive when working from home and the quarantine ends. #remoteworking pic.twitter.com/JSoTAowyhS

— Sharon (she/her) (@sharondio) March 10, 2020
15.
Little bro is working from home and wanted his cat to look more "professional" when he appeared in the webcam during team (video) meetings so he bought him a set of ties. #QuarantineCats pic.twitter.com/WvgOD9FYUJ

— Munya (@WanderinVoyager) March 16, 2020
16.
17.
PSA for office folks suddenly working from home #remoteworking pic.twitter.com/3NBXABzyHf

— Ted Goas (@TedGoas) March 10, 2020
18.
19.
This ones for all those parents working from home today, while their kids are also home from school.#DOOMEternal #mancubus #wfh #coronavirus pic.twitter.com/Q4cqqO7INk

— Joe Bowers (@Joe_bowz) March 13, 2020
20.
21.
22.
23.
24.