Ever had a donut while sitting on a donut-shaped boat? No? Well now is your chance! All you have to do is visit the newly open store Dough in Bahrain Bay in South Wharf.
The donut boat fits up to 7 people and it's 19 BD for a 1-hour ride.
On the menu are incredible pizzas sold by the slice or whole starting with a jumbo slice for 1.9 BD, a 12 inch for 4.9 BD, and XXL 16 inch for 5.9 BD with flavors like Pepperoni, American Cheeseburger, Pesto, and Tandoori. For a full list of their pizzas find it here.
They also have incredible original glazed donuts stuffed with ice cream for 2.5 BD that are freshly baked in-house and you can choose between chocolate, vanilla, and strawberry cheesecake and cover it up with different toppings like Oreos, fruity pebbles, sprinkles, gummy bears and a few more for 300 fils.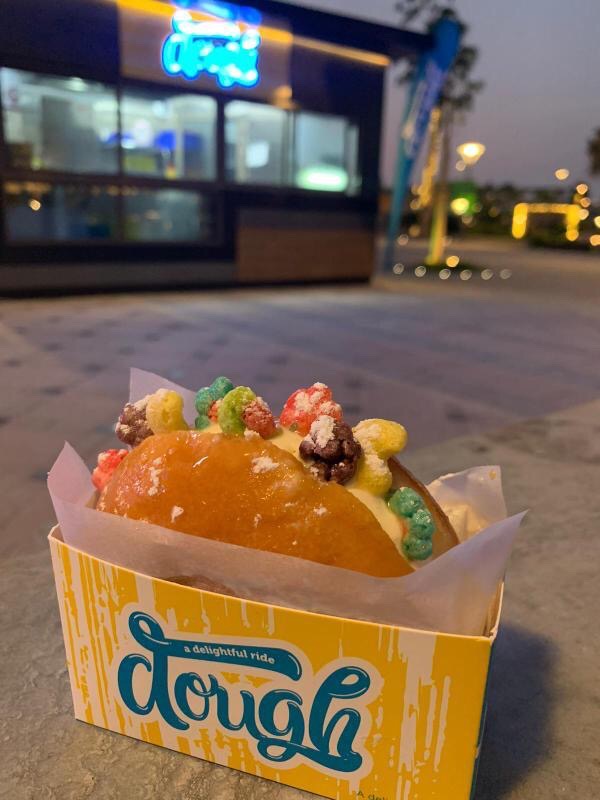 Dough is open from 3 PM to 12 AM and you can get on the boat from 4 PM to 11 PM. It's also available on Talabat and Carriage for delivery if you're craving the delicious pizza and dessert and can't make it down! Make sure you call ahead to reserve your boat ride at 77092310.