Looking for ways to work out at home?
While we are being encouraged to stay at home during this time it can be challenging to find ways to stay active. That is why these Bahrain-based fitness coaches, instructors, and athletes are bridging the gap in the community by offering workout plans, classes, and online training that you can follow from home! Check out the pages below.
This Bahrain based yogi is posting her home yoga sessions online so that you can follow along! Get inspired and challenge yourself to do some of the yoga moves and soak in all those positive vibes.
This Zumba instructor is posting some really great information online like what happens to your muscles from sitting for long hours and other fitness advice to be aware of. Definitely a great page to follow for health tips! She is also providing virtual group and one-on-one sessions if you're interested, send her a message on Instagram!
A CrossFit gym that has taken their work online! Follow along on their Instagram Stories for motivating workout plans and get driven to stay fit while at spending time at home.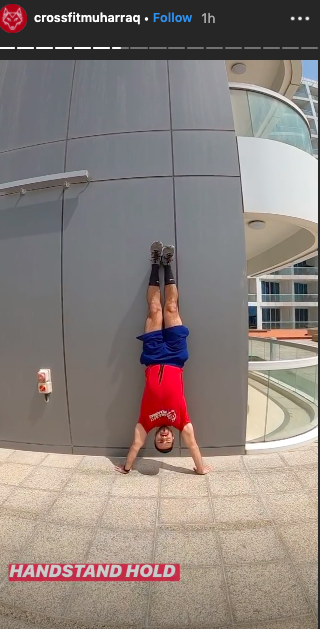 A fitness facility that's making online workouts fun! Stay updated on their Instagram Stories for quick routines and get motivated with the community.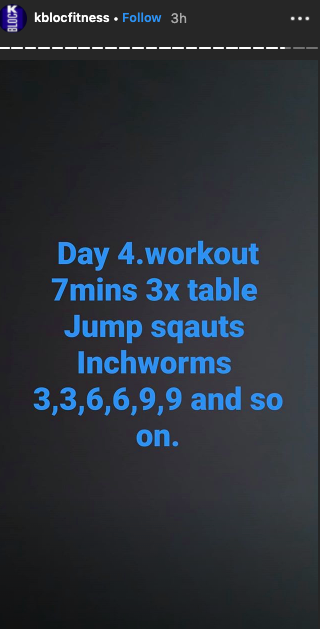 This awesome fitness studio is helping people keep fit at home by posting workout challenges on their page. Stay tuned and follow along to get your blood pumping and body moving from the comfort of your home!
This Bahrain fitness centre is taking its Bootcamp training online! Follow along for a weekly home training workout routine in where every day is focused on a muscle group.
A Bahrain based fitness instructor at LIFT BHBC, Abdulla is posting Strength Home Workouts to keep your "muscles on fire!" If you wanted a good workout session at home today check this one out.
A CrossFit and fitness gym that is challenging followers to a "home workout series" daily. Can you beat the challenge and stay on top of your fitness? Check them out and see you can!
A CrossFit and fitness facility that has started posting great home workouts. Stay tuned by switching to their IGTV section daily!
While actros.fit usually consists of group workouts that have since migrated into the online world to motivate people to stay fit while at home. Check out the link in his bio for the Youtube channel to find the at-home workouts titled "Tabata workout"
Aysha is a Bahraini athlete who is totally inspiring people to follow her workouts and lifestyle. Follow her steps to keep fit on her Stories every day as well as posted on her Highlights section under "Home workouts" and "Workouts".
Talal Nabeel, a personal trainer, and online coach in Bahrain is posting bite-sized videos of body enhancing techniques that can be done at home and are easy to implement in your daily routine!
This Bahraini fitness instruction is helping people stay motivated and fit at home! Check out his home workouts on the Highlights section "WOD @ Home" and stay tuned to his Stories and posts on the page as well.
This Bahrain based health & fitness coach is going live on her Instagram page to get people involved in staying fit while they stay home! She's doing this at 11:30 AM but keep checking to see if timings change.
This CrossFit gym is doing a great initiative by starting online virtual workout classes with a personal trainer! The most productive conference call ever. Check out their highlights to learn some techniques on your own time.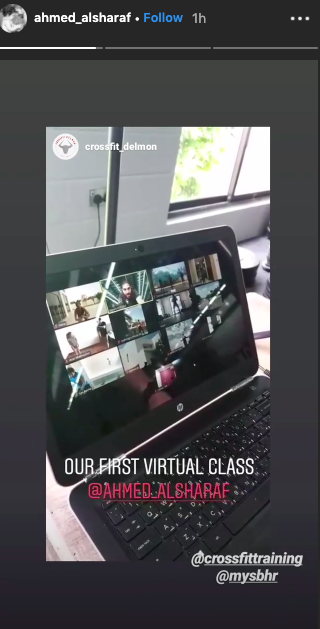 A yoga instructor based in Bahrain who is showing her yoga sessions on her Instagram Stories! You can also check out the highlights on her account to get more yoga content.
Sunday to Thursday they'll be doing a challenge for girls in Bahrain to Participate in on their Instagram and there's quite an awesome inventive! For every video that you submit back to their challenge (tag them or DM them privately), you'll be eligible to receive one ticket entry and a chance to win a brand new road bike! What a great idea!
You'd usually find Abdulla at Elements Jiu-Jitsu Academy as a Jiu-Jitsu coach but this personal trainer has been keeping his followers entertained daily with light-hearted workouts from home, using his mom's chairs and bags of rice. Check him out for some at-home workout ideas!
This Bahrain based trainer is unique in that she specializes in body composition and sports performance. If you want a great fitness page to follow check her out and the workouts she posts!
A Bahraini strength + conditioning centre for women that have developed an app so people can train together at home. Message them on Instagram for details on the app and how to sign up!
Owner of Reps Fitness Studios in Bahrain, Mahmood is used to training people at the gym but he hasn't stopped getting people excited about working out! Head to his Instagram Stories to check out daily workouts.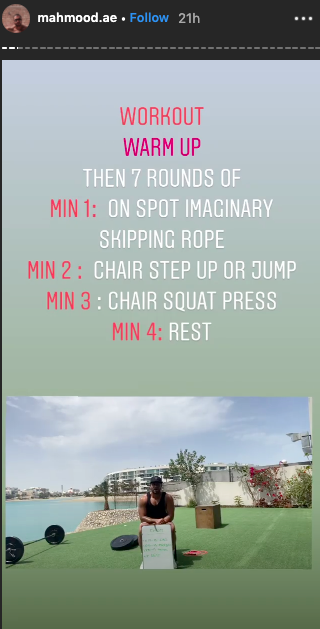 A personal trainer that is on the quest to keep Bahrain active with full-body workouts while times of self-isolating. She also encourages to share comments and feedback on her posts and tag friends to encourage one another to stay active.
This personal trainer is used to training her clients in the outdoors but is now bringing training to people virtually! Follow along her Stories and IGTV to get motivated.
A Zumba instructor based in Bahrain who has been posting her home workouts to motivate people to get some exercise during self-isolating!
A Calisthenics based gym that will be posting workout programs at 3 PM every day as well as booking online personal training for 5 clients per week. Send them a DM on Instagram for more information and get ready for a 3 PM workout!