Well, looks like we made it to the final countdown
The year that felt like an entire decade is coming to an end. We laughed a little and cried a bunch, but we're here, running into 2021 with hopes for better things to come!! We don't know about you, but we're planning on celebrating *safely* but also loudly.
Our top picks
Scroll below to explore our top picks that you absolutely have to celebrate the new year at:
My Cafe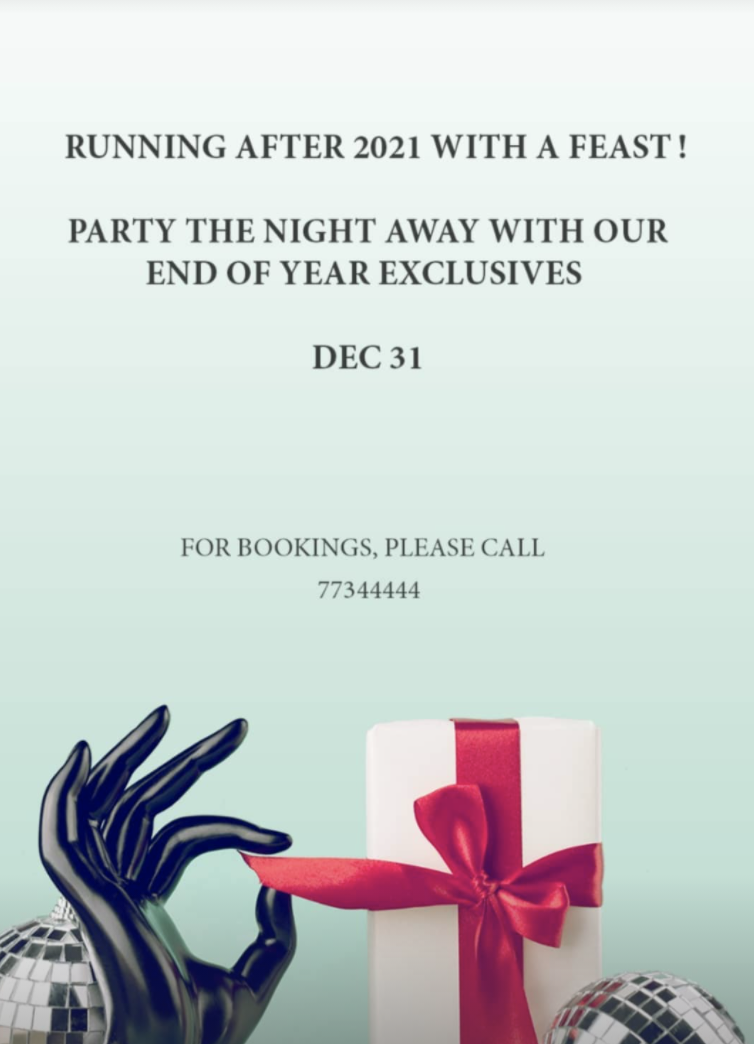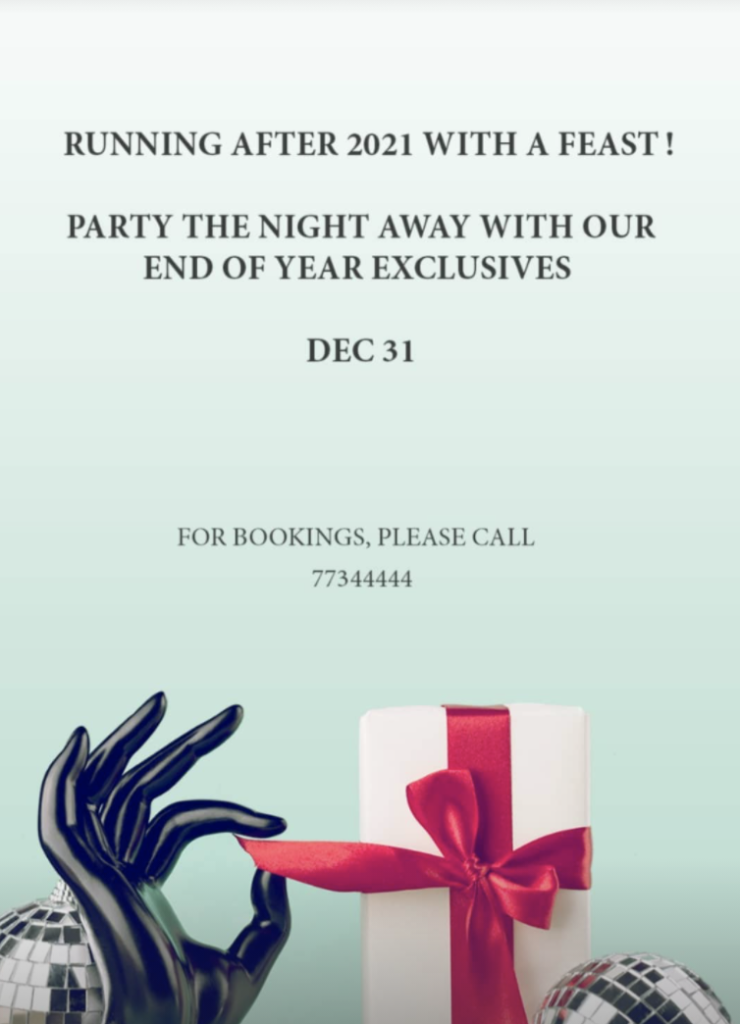 My Cafe is out here planning to celebrate on three different days – why stop at NYE, right? Here are your 3 options:
December 31st
A whole feast planned out to enter 2021 with positive vibes and a whole lot of food!

January 1st
A brunch filled with good food and live entertainment to celebrate New Years Day
Starting from BD 28

January 2nd
Another brunch featuring some more live entertainment
Starting from BD 28
Call 77344444 for bookings!
Mahonia
The NYE Event at Mahonia is planned out to be a night filled with food, music and vibes to get you into the new year on the most welcoming note. There'll be an Acrobatic light show by Ridan Albuquerque and a Live violist, Suay Soganay along with DJ Mozkai, playing throughout the night!
Price: BD 60 per person
Call or send a WhatsApp to 37222244
Gallery 21
Gallery 21 is planning to celebrate NYE with an evening under the stars!! A magical ambiance at all their venues, with live entertainment featuring DJ Aziz, DJ Cheetoz and Vibes Band – 'cause who's about to enter a new year without some great music?
Call 17711600 for more information
Mai Tai
Crowne Plaza Bahrain – La Mosaique
Crowne Plaza is planning a lavish 5-course evening meal at one of their restaurants, La Mosaique, filling you up with all the good stuff to celebrate the new year!! Here are your options:

BD 25 net including soft beverages
BD 35 net with unlimited selected grapes until the stroke of midnight
BD 15 net per child under 10⠀
⠀
Time: 7:00 pm -12:00 am
⠀
Call or send a WhatsApp to 17531122 or 38411272 for more information
The Backyard at The Harvesters
Crowne Plaza's The Harvesters is also planning a super lavish outdoor party at The Backyard extension for NYE!! Feeling the winter vibes out here as we enter the new year.
⠀
Price: BD 50 net – inclusive of unlimited selected beverages until midnight
Time: 8:00 pm – 2:00 am
⠀
Call 38411272 for reservations!
InterContinental Regency
InterContinental Regency is promising us an exclusive NYE party, where we can grab all our people and create our "Own Bubble" at any of the hotel's restaurants, with different cuisines!! Clearly an experience for the books. Here are your options:

BD 16 net – Kids between 7 – 12 years ⠀
BD 32 net – Soft Beverage Package BD 42 net – Alcohol Beverage Package ⠀
BD 60 net – Champagne Package
Time: 31st December, 9:30 pm – 2:00 am
⠀
There'll be a minimum number required for exclusive venue booking, so you can call or WhatsApp 17227777 for any inquiries or reservations.
Other Options
Here are some other options you can still find a booking at:
Art Rotana Gala Dinner
The Gulf Hotel Bahrain
Fusions by Tala
Iris
Alto
NYE at WU
NYE Under the Stars at McGettigan's
NYE Party & Black Tie Dinner at The Gulf Hotel
NYE Fusion Bonfire Night at Sofitel Bahrain
NYE at Solymar Beach
NYE at Calexico
Four Seasons – Bahrain Bay Kitchen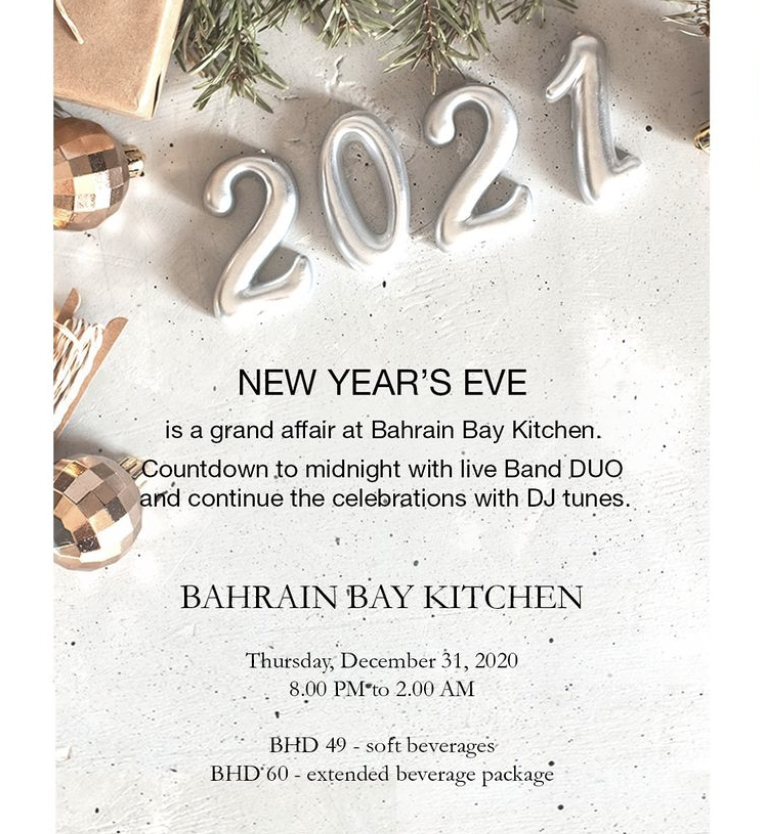 Cut by Wolfgang Puck
Clay
Hazel
Oliveto
Mago
Rustic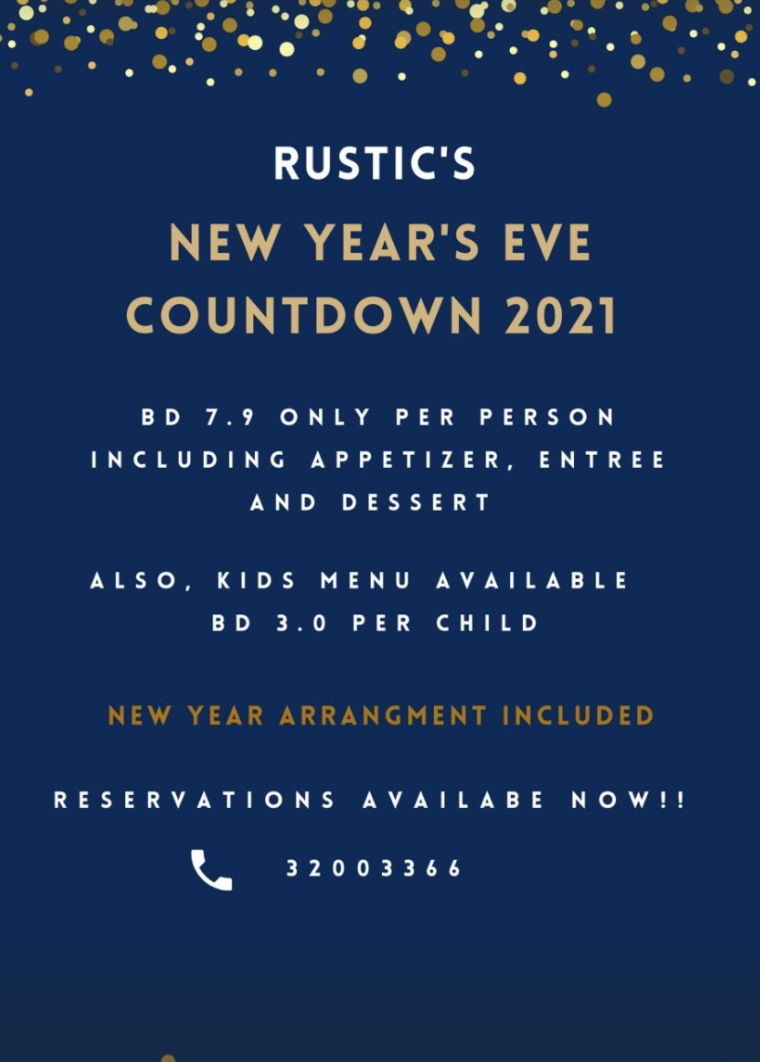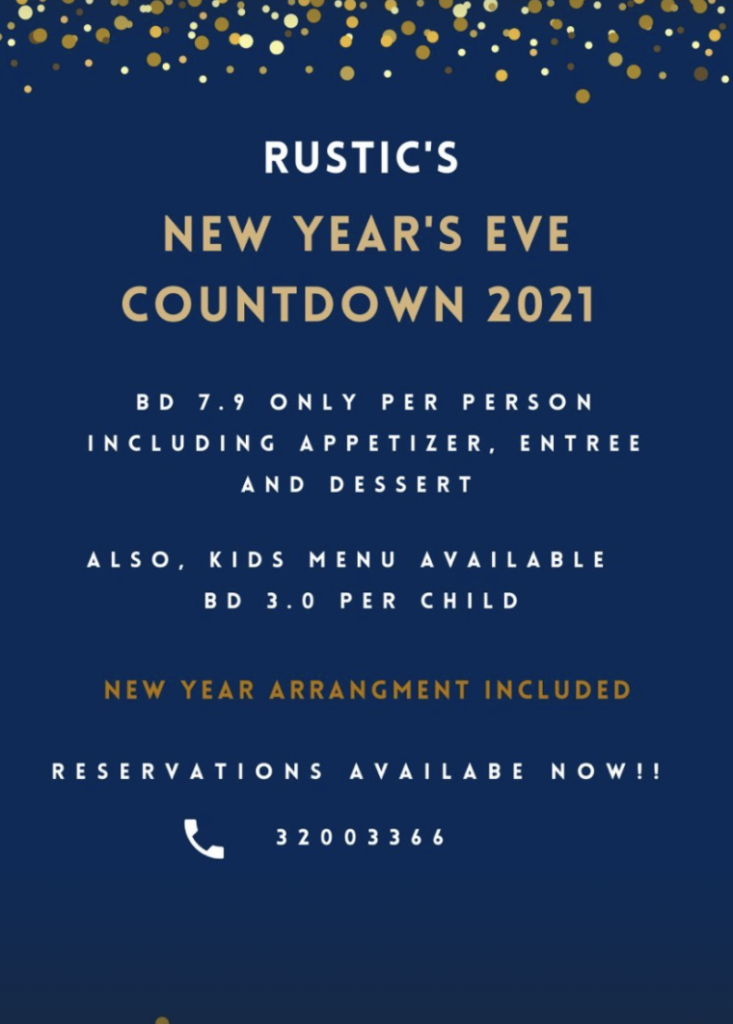 Attic
Happy New Year, locals!
May 2021 look only up for us all – God knows we need it.
READ MORE:
You Can Make Your Backyard Insta-Worthy With These 10 Aesthetic Outdoor Setups
READ MORE:
10 Spots For Traditional Breakfasts That'll Get You In The Bahraini Mood