61kg in the bag
Bahrain has yet another accolade in the sports world. Bahraini wrestler, Ali Baik won the bronze medal in the 61kg category at the World Youth Wrestling Championship. The event which was held in Russia runs from the 16th to the 22nd of August.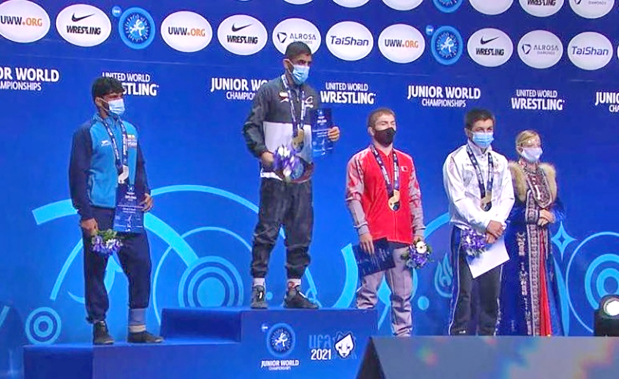 More than 500 wrestlers are taking part in the competition representing associations and nations, under the umbrella of the International Federation.
Supreme Council for Youth and Sport first deputy chairman and President of the General Sports Authority and Bahrain Olympic Committee Shaikh Khalid bin Hamad Al Khalifa said the result achieved by Ali reflects the great technical level that he showed during the competition, armed with persistence and determination to raise Bahrain's flag at the global forum.
Brawn wins Bronze
READ MORE:
Tesla's New Robot to Take Care of the Boring Work, 'Cause Why Not?
READ MORE:
Lionel Messi's Tear Soaked Tissue Is up for Sale at $1 Million and We're Shook
READ MORE:
Bahrain Wins Second Gold at Table Tennis Championship
ميدالية برونزية من نصيب البحرين في بطولة العالم للناشئين المصارعين
61 كجم!
البحرين حصلت على وسام آخر في عالم الرياضة. فاز المصارع البحريني علي بيك بالميدالية البرونزية في فئة 61 كلغ في بطولة العالم الشبابية للمصارعة. الحدث الذي أقيم في روسيا يمتد من 16 إلى 22 أغسطس.
يشارك أكثر من 500 مصارع في المسابقة التي تمثل جمعيات ودول تحت مظلة الاتحاد الدولي.
وقال النائب الأول لرئيس المجلس الأعلى للشباب والرياضة ورئيس الهيئة العامة للرياضة واللجنة الأولمبية البحرينية الشيخ خالد بن حمد آل خليفة، إن النتيجة التي حققها علي تعكس المستوى الفني الكبير الذي أظهره خلال المسابقة، مسلحًا بإصرار وتصميم لرفع علم البحرين في الميدان العالمي.