King Hamad Hospital Mobile
King Hamad University Hospital, one of the finest and most prestigious hospitals in the Kingdom just made our lives a lot easier. The hospital announced that they are launching a new app to help patients with essentials. The King Hamad Hospital Mobile app is available for download through both the Apple and Android app stores. Furthermore, you can also download it by scanning the QR code below.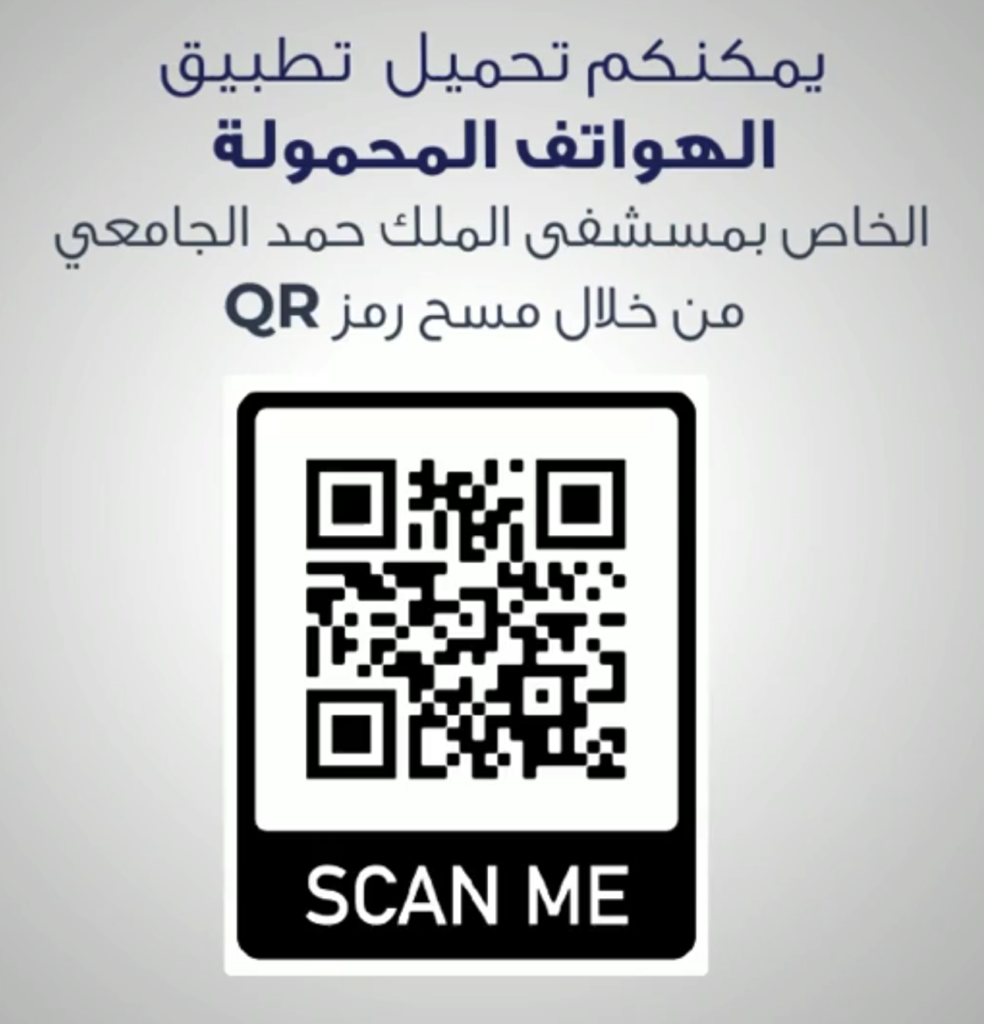 The app has many services, including access to all the different specialties, and to over 70+ doctors. Now, you can book appointments, see the schedule, and even get a step-by-step route on how to get to King Hamad Hospital right from this app.
The app also sends you text messages regarding important announcements, new offers, medical news, and your appointments.
Download the app now from the App Store or from the Play store now!
Where Quality meet Knowledge
READ MORE:
Soak up Some History and Tradition at These 8 Sites in Muharraq
READ MORE:
NFT's Have Another Stellar Week, Grossing BD 9 Million Last Week Alone
READ MORE:
Winning Start for Bahrain on the Road to 100 Gold at MMA World Cup
تطبيق رسمي لمستشفى الملك حمد الجامعي لحياة أسهل
مستشفى الملك حمد معكم
مستشفى الملك حمد الجامعي ، أحد أرقى المستشفيات المعروفة في المملكة ، راح يسهلون علينا حياتنا. أعلن المستشفى عن إطلاق تطبيق جديد لمساعدة المرضى في قضاء حاجاتهم المرضية. تطبيق مستشفى الملك حمد للهاتف المحمول متاح للتنزيل من خلال المتاجر التطبيقية آبل وأندرويد. علاوة على ذلك ، يمكنك أيضًا تنزيله عن طريق مسح الكود السريع أدناه.
 التطبيق يوجد به العديد من الخدمات، بما في ذلك الوصول إلى جميع التخصصات المختلفة ، وأكثر من 70 طبيبًا. الآن ، يمكنكم حجز المواعيد ، والاطلاع على الجدول الزمني، وحتى الحصول على طريق خطوة بخطوة حول كيفية الوصول إلى مستشفى الملك حمد مباشرة من هذا التطبيق.
يرسل لك التطبيق أيضًا إشعارات بخصوص الإعلانات المهمة والعروض الجديدة والأخبار الطبية والمواعيد الخاصة بك.
حيث تلتقي الجودة بالمعرفة