Whip up this latest food trends in your own kitchen.
While we are all staying home, a lot of people have been experimenting in the kitchen. With that comes a lot of new recipes!
First, it was dalgona coffee that swept the globe on TikTok and Instagram, but now there are a bunch of new trendy recipes going viral online! From new easy to make trends to restaurants sharing their menu recipes to make at home, these are the new food crazes. Read below to discover and find out how to make them! It'll make for a fun evening at home.
READ ALSO: This Is Dalgona Coffee And It's Trending Worldwide Right Now
1. Two-Ingredient Gulab Jamun
A TikTok user has made this super simple way of making Gulab Jamun using just bread and milk! This video has been viewed over 74 million times on the app. Take a look at the full recipe video!
Click here to see how it's made.
2. Mini Pancake Cereal
This trend is spreading like wildfire all over the internet! Use any batter that you'd use to make regular pancakes but then cook them small and eat them like cereal. So cute! Click below to see how it's made.
Click here to see how it's made.
3. Two-ingredient Oreo Mug Cake
Craving something sweet but don't want to put any effort into the baking process? This viral mug cake is so easy to make and tastes delicious! All you need is a handful of Oreos and milk. Click below to see how it's made and why everyone is obsessed with it.
Click here to see how it's made.
4. Karumeyaki Honeycomb Dessert
This Japanese dessert is taking over TikTok although its said to be around for over 400 years! It's like a light caramel meringue cookie and super easy and quick to make. Check out how to make it in the video above and the link below.
Click here to see how it's made.
5. Whipped strawberry milk
First came the delicious yet painstakingly whipped dalgona coffee that took over the internet and now there's the whipped strawberry milk that's all over and TikTok! It's also easier to make than dalgona coffee and strawberry can be substituted for chocolate.
Click here to see how it's made.
6. Disney's Tonga Toast recipe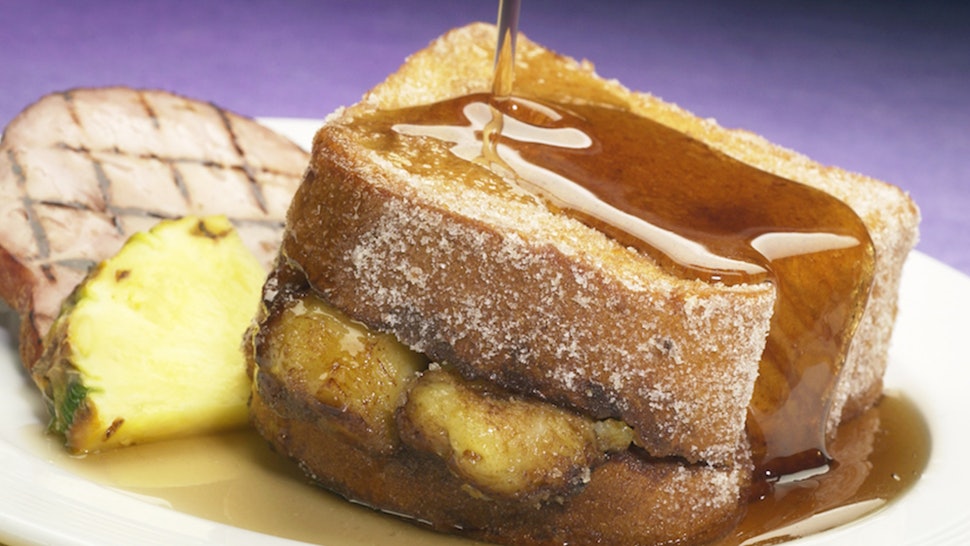 Disney-themed food is one of the joys of visiting a Disney World or Park, but since they are closed now, Disney has released its famous park recipes to recreate at home, bringing a little magic into people's lives. Make the Tonga Toast from Disney's Polynesian Village Resort at home. Check out the video below to see how to make it.
7. Hilton Hotel's famus Double Tree Chocolate Chip Cookie
For the first time ever, DoubleTree by Hilton is sharing the official bake-at-home recipe for the brand's beloved and delicious chocolate chip cookie. This cookie is so famous and you can finally make it at home! Check out the recipe below.
Click here to see how it's made.
8. IKEA's Swedish meatballs
Missing your IKEA meatball fix? We've created a recipe for you to recreate this delicious dish in the comfort of your own home #IKEAmeatballs pic.twitter.com/d89lRsJxH7

— IKEA UK (@IKEAUK) April 20, 2020
Everyone has made a trip to Ikea just to eat meatballs at least once in their lives. If you haven't don't worry you don't have to miss out! Ikea has shared the famous Swedish recipe to make the dish at home. Check it out below.
Click here to see how it's made.
9. Cheesecake Factory recipes
If you miss going to the Cheesecake factory, this is for you! The restaurant has released 20 recipes from its top-selling menu items that you can recreate at home. From their cinnamon roll pancakes to their cajun jambalaya pasta. Click below to check them out!
10. Easy No-Bake Lotus Cheesecake Truffles
In Bahrain and the rest of the GCC, we're absolutely obsessed with Lotus Biscoff spread. We've put it in literally all types of desserts from frozen yogurt to kunafa and even inside KitKats. Here's an easy lotus cheesecake recipe you can make in literally minutes that's going viral on TikTok!
Click here to see how it's made.
11. Ramen Fried Rice
Ramen Fried Rice is the ultimate stay-home late-night dinner. With just a few simple elements, ramen noodles and fried rice are combined to form a delicious meal you never thought was missing in your life. It first became a trend in Japan and now the entire foodie community on the internet is obsessed with it. Check out how it's made below.
Click here to see how it's made.
READ ALSO: 20 Of The Best Comfort Food Recipes That Are Perfect To Try Right Now