Beat the heat this summer with this tasty drink!
The soaring temperature during the summer in Bahrain can get so high and now that we're approaching the new season, we'll need some refreshments that are perfect to cool down!
If you've never tried an iced rose latte, here is your chance. This coffee-based drink is popular in Bahrain for its light and sweet taste. Its usually made with espresso, milk or alternative milk, and rose syrup or water. Not only does it taste delicious, but it is also a good elixir for relieving stress!
If you like lattes, try it out for a new flavour like rose, and check them out for pick up or delivery at these 9 cafes in Bahrain below!
WHAT: The iced rose latte is so satisfying and available on Talabat & Carriage for delivery.
PRICE: 1.7 BD
WHERE: Muharraq
WHAT: This spot not only makes a great rose latte but also makes it as a frappe! Available on Talabat, Carriage, and Hunger Station for delivery.
PRICE: 2 BD latte | 2.5 BD frappe
WHERE: Adliya
WHAT: This cafe makes amazing summer drinks and the iced rose latte is one of them. Available on Talabat & Carriage for delivery.
PRICE: 1.2 – 1.4 BD
WHERE: Riffa
WHAT: Perfect way to start the day or end the evening! Available on Talabat for delivery.
PRICE: 1.7 BD
WHERE: Busaiteen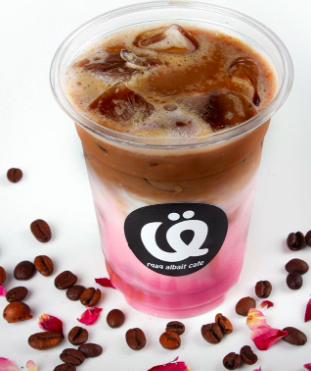 WHAT: This spot turns the rose latte into a rose shake, so you can have the drink either way! Available on Talabat for delivery.
PRICE: 1.5 BD Shake | 1.6 BD Latte
WHERE: Hidd
6. The Garden Lounge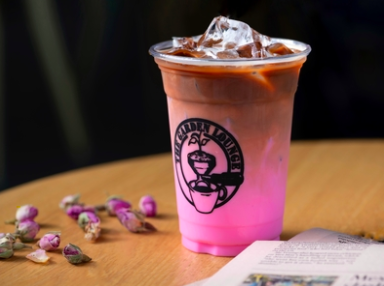 WHAT: For a great caffeinated pick me up, try out the rose latte from The Garden Lounge's menu, available to order on Talabat.
PRICE: 1.5 BD
WHERE: Salmabad
WHAT: The rose latte AKA The Businesswoman Latte is one of the best sellers at this spot and available for delivery on Talabat.
PRICE: 2.1 – 2.4 BD
WHERE: Arad | Riffa
WHAT: This spot has lots of different latte flavors that are great tasting for a fairly affordable price! Call 66367330 for delivery.
PRICE: 1 BD
WHERE: Al Malikiyah
WHAT: A light yet decadent flavor bomb is the rose latte from this spot. Available on Talabat for delivery.
PRICE: 2.6 BD
WHERE: District 1, Janabiyah