If you thought things couldn't be covered or stuffed with Cheetos, keep reading!
We all know of the beloved addictive bag of Cheetos, and when they leveled up from cheese puffs to Flamin' Hot, we leveled up too.
As humans, we learned to use it as an ingredient which was one of our moves into evolving into the future. Because guess what, chips just go well with a lot of dishes, making them so much more delicious. Chips are no longer an everyday snack but can now be added to just about everything! Also, you 100% lived in the Middle East if you put chips in your cheese manakeesh growing up, so this could have been taken as an inspiration here.
You might want to check out below to see 15 delicious dishes across Bahrain that have become elevated by adding Cheetos into the mix!
Better yet, you can get them all delivered right to your door by ordering online, on the phone, or on food delivery platforms like Talabat or Hunger Station or call ahead for pickup!
1. Cheetos Fries
WHERE: Seashell Cafe, Busaiteen
WHAT: If you love fries and Cheetos you must try this! Loaded with cheese, sauce, and topped with crushed Hot Cheetos and jalapeno slices for 2.1BD. It's available on Talabat for delivery.
2. Chicken Cheetos Sliders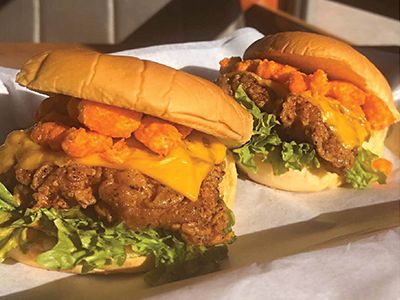 WHERE: Feast AKA Burger Boutique, West Riffa
WHAT: For 2.4 BD you get a mouthwatering fried chicken slider with cheese and topped with Cheetos! Order on Talabat for delivery or call and Whatsapp 39464660 for pickup orders, open from 1 PM to 1:30 AM.
3. Chicken Spicy Cheetos Sliders
WHERE: Bora Bora, Riffa
WHAT: You will enjoy every irresistible bite while eating this chicken slider. Bursting with flavor for 1.3 BD! Call 17006119 for pickup or order online at Talabat for delivery, open from 11 AM to 1 AM.
4. Mac and Cheese with Flamin Hot Cheetos
WHERE: Beefies Burger, Arad
WHAT: If you're a pasta fan you've got to try this! Mac and cheese topped with hot Cheetos for 2 BD, available on Talabat for delivery, or call 38382345 for pickup orders. Open from 5:30 PM – 12 AM.
5. Cheesy Cheetos Fries
WHERE: Tgahwa Andna, Riffa
WHAT: Nothing like someone handing you a bag of Cheetos and it's loaded with fries and melted cheese! You can order it with chicken too for 1.5 BD. Drive-by for a takeout order or head to Talabat for delivery. Open from 6 PM to 12 AM.
6. Cheetos Samosas
WHERE: Egg n Cream, Tubli
WHAT: Samosas with a twist of flavor! Made with cream cheese and Cheetos for 1.4 BD. Order on Talabat, Carriage and Hunger Station open from 8 AM to 10 PM.
7. Chicken Flamin Hot Cheetos Pasta
WHERE: Dorado, Tubli
WHAT: For 2.5BD you can get a bowl of creamy pasta topped with Cheetos, makes for a great balance of chewiness and crunch! Open from 12 PM – 11 PM and 4 PM – 11 PM on Fridays Call 39176748 for pickup and delivery orders and can place through Talabat.
8. Dynamite Shrimp Sandwich w/ Flamin Hot Cheetos
WHERE: Bella Lobster, Riffa
WHAT: Did you know seafood and Cheetos go great together? Try out this tasty crispy shrimp sandwich with dynamite sauce and Flamin Hot Cheetos for 1.9 BD. Order on Talabat for delivery or call 17640404. Open from 2 PM – 1:30 AM.
9. Cheetos Risotto Balls
WHERE: Crave, The Flagship, Seef
WHAT: Cheesy, risotto balls are so satisfying and delicious, even more so when they are covered with spicy Cheetos! For 2.4 BD, you can order a plate of them for delivery on Talabat. Open from 11 AM – 11 PM, 12 AM on weekends.
10. Fire Truck Fries
WHERE: StrEAT Food Truck, Saar next to Nakheel Center
WHAT: Looking for the ultimate street food snack? Try the Fire Truck, a generous amount of fries topped with fried chicken, cheese, and crunchy handfuls of spicy Cheetos for 2.5 BD! Open from 5 PM – 12 AM, visit the truck for pickup or order on Talabat or Carriage for delivery.
11. Flaming Hot Cheetos Pizza
WHERE: Crazy Pizza, Manama
WHAT: Whoever thought of putting Cheetos on top of a pizza is a snack genius! This margherita pizza on charcoal dough is topped with spicy hot Cheetos and sells for 5.3BD. Order on Talabat or on the website for delivery, or WhatsApp 39938686 to place an order. pen from 12 PM to 11 PM.
12. Cheeta Burger
WHERE: Joseph Station, Riffa
WHAT: The ultimate Cheeto fix! Get this mouthwatering burger stuffed with hot Cheetos and topped with Cheeto dust for 2.6 BD. Available for delivery on Talabat and Carriage and open from 12 PM – 12 AM, 1 AM on weekends.
13. Flamin Hot Cheetos Popcorn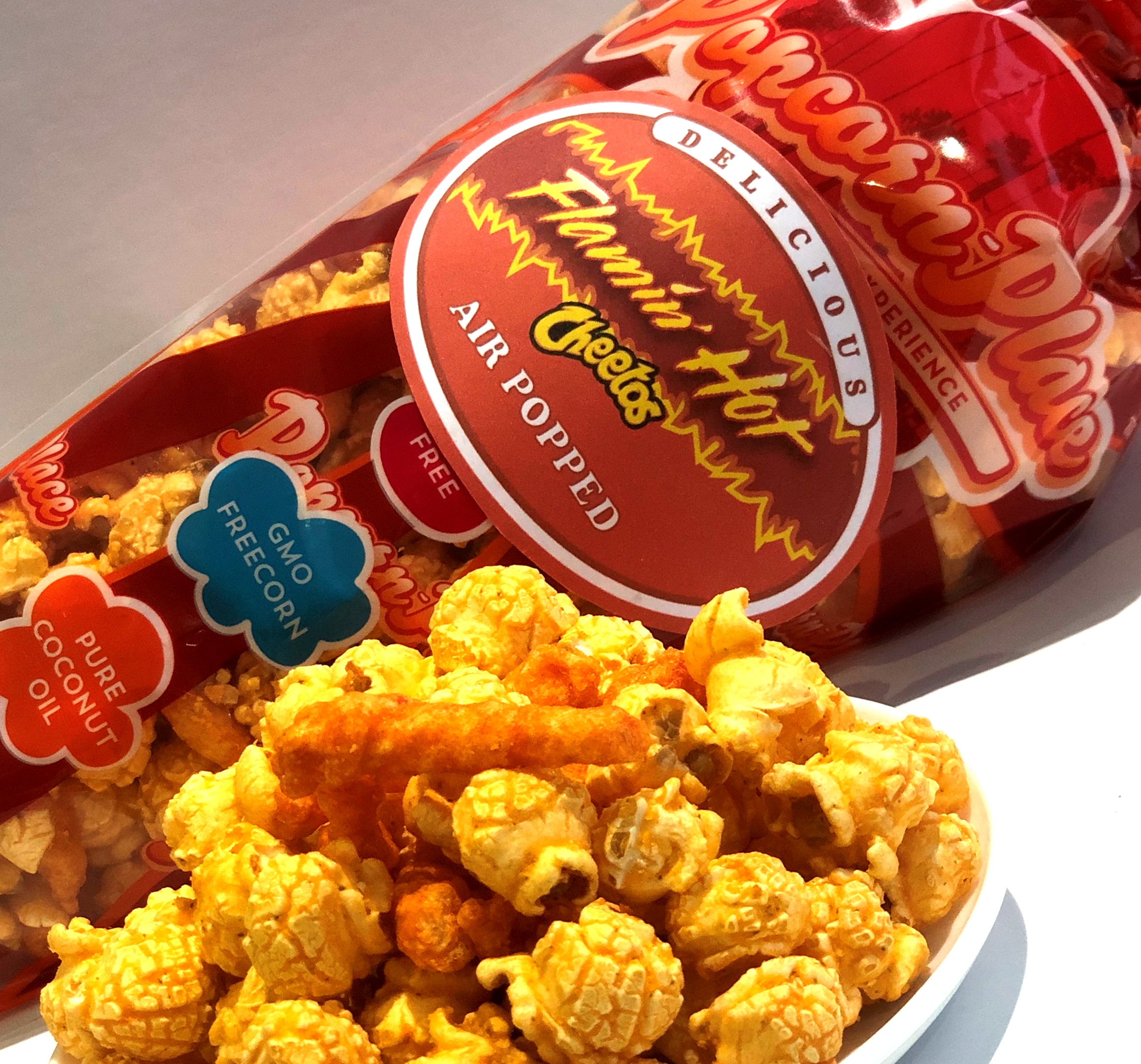 WHERE: Popcorn Place
WHAT: Cheetos flavored popcorn is a thing and its worth a try! Get the 2-1 ultimate snack experience for 2.9 BD, order online from the website here.
14. Cheetos and Cheese Chapati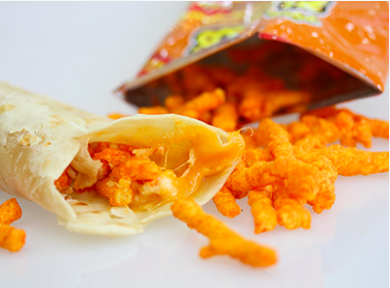 WHERE: Baba Chapati Cafeteria, Riffa
WHAT: For 700 fils, you can have this satisfying yet inexpensive chapati snack that's made with cheese and Cheetos rolled together! Order on Talabat and Hunger Station or call 13112323‬ to place an order, you can also drop by the food truck for pickup.
15. Cornholio
WHERE: Southside, Janabiyah
WHAT: This is the ultimate summer snack full of flavors made out of corn, parmesan cheese, lime mayo, and a generous amount of crushed Cheetos! Order on Talabat and also available for pickup, WhatsApp 39452016 for inquiries. Open from 1:15 PM – 10:30 PM.