Nothing like some light-hearted internet jokes to make your week!
Check out our round-up of 15 funny tweets from this week.
1.
"Ask not what staying home on the couch can do for you, but what staying home on the couch can do for your country."

— Kashana (@kashanacauley) March 15, 2020
2.
I either showered this morning or last Wednesday who's to say? We'll never know.

— Emily Murnane (@emily_murnane) March 17, 2020
3.
oh nowwww everyone wanna know what introverts do for fun

— Aparna Nancherla (@aparnapkin) March 13, 2020
4.
me: man it's hard to stay active an exercise while isolated at home.

everyone: here's an online workout you can join! try this yoga video! here are exercises you can do at home!

me:…just so hard. oh well back to the couch.

— niki ang (@nicolaang) March 18, 2020
5.
working up the confidence to be someone who does an "ask me a question" story on Instagram

— Sophia Benoit (@1followernodad) March 19, 2020
6.
me in 1 week watching a scrap of plastic blow across the street pic.twitter.com/ZvXlCIQbzy

— Jill Gutowitz (@jillboard) March 17, 2020
7.
me: i am gonna get so good at cooking
me, 3 days later: ah, another perfectly toasted Pop Tart

— Karen Chee (@karencheee) March 14, 2020
8.
Welp, turns out I don't want to eat salad in the apocalypse either

— Ashly Perez (@itsashlyperez) March 18, 2020
9.
when i pass thru the background of my boyfriend's WFH video call: pic.twitter.com/1lTaeWUejs

— Kirsten King (@KirstenKing_) March 18, 2020
10.
Day 1 of quarantine: I'm going to take this as an opportunity to improve my health

Day 2 of quarantine: Due to personal reasons, I am eating a lasagna in my shower

— Roxi Horror 💀🌸 (@roxiqt) March 18, 2020
11.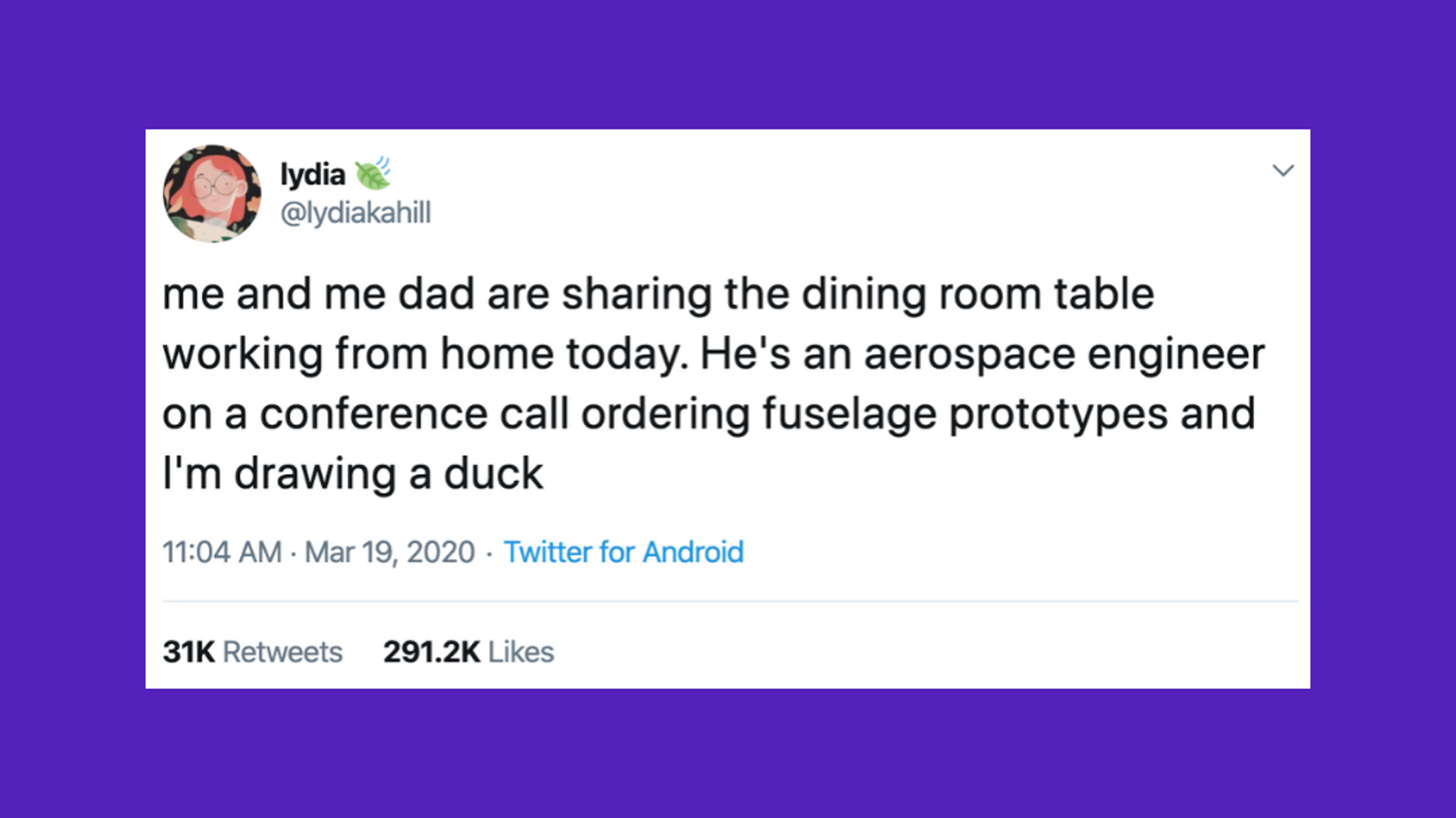 12.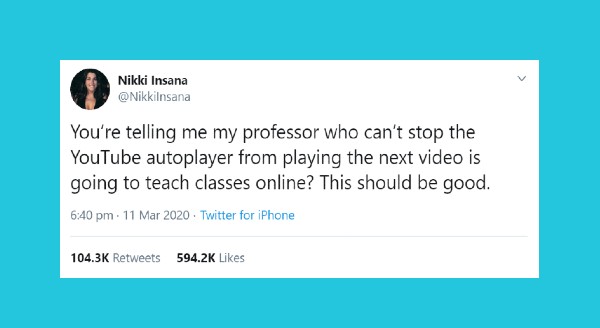 13.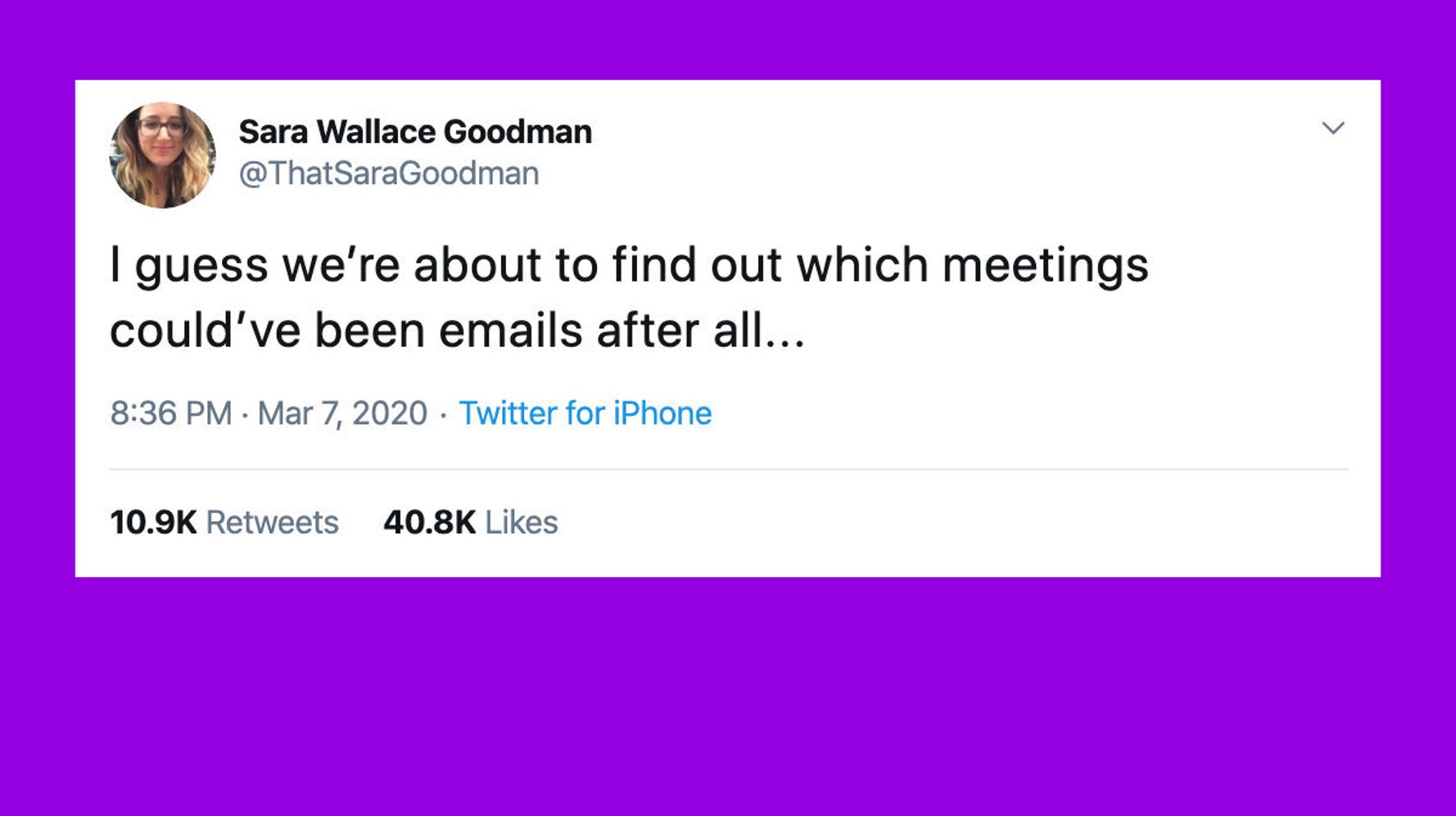 14.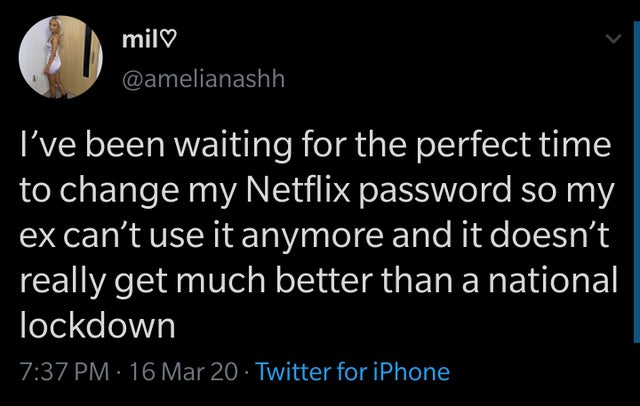 15.