Weekend calling!
The weekend is almost here and since we've all had a pretty busy week it's a good time to refresh and unwind. Go out with friends, have a fun family day out, or enjoy special events, we've got a list of things you can do this weekend. Scroll through to check them out!
Check out Playlist Picnic at Royal Golf Club
This Friday, check out the super fun 12-hour music festival at Royal Golf Club! Playlist Picnic is a family-friendly event with great music, a fun picnic setup with picnic baskets and so much to look forward to!
Grab your tickets here.
It's the last weekend to check out Bahrain Food Festival
Bahrain Food Festival is here and it is not to be missed! Head over to Bahrain Harbour, Sunday to Wednesday 5 pm to 11 pm, Thursday – Saturday 5 pm to 12 am!
Check out Manama Gold Festival in Souq Al Manama
This weekend, you can head over to Manama Gold Festival in Souq Al Manama. Choose from a variety of gold, pearls, and precious stones! You can even be a winner, to know more click here.
Head over to Al Liwan Spring Festival
This is the last weekend to head over to Al Liwan Spring Festival. Enjoy live music, great food, and experience spring in an event!
Experience Dine in the Dark
If you're a sucker for trying new things, experience Dine in the Dark by Jareb Adventures at Al Areen Palace and Spa this weekend! To know more click here.
Check out Pop-up by Miraia at Mall of Dilmunia
A one-stop shop for all your Ramadan needs is here! Miraia is a pop-up concept set up at Mall of Dilmunia where you can find everything from modern and traditional kaftans, accessories, homeware, and a lot more! Check it out this weekend!
Enjoy a duet piano performance by Richard Clayderman and Zade Dirani
Manama Mon Amour, an enchanting concert awaits you at the Bahrain National Theatre this weekend. Check it out on Thursday, the 31st of March.
Shop away at Ramadan Pop-up
El Mercado is organizing a Ramadan pop-up concept this weekend and it is where you can find any and everything to fill your pre-Ramadan shopping cart! Check it out this Thursday at 4 pm.
Play and win at The Avenues Bahrain
Have fun while playing games and win exciting prizes during the month of Ramadan at The Avenues Bahrain. Starts this Saturday!!
Head over to Youth, Art and Peace Festival at Karzakan Forest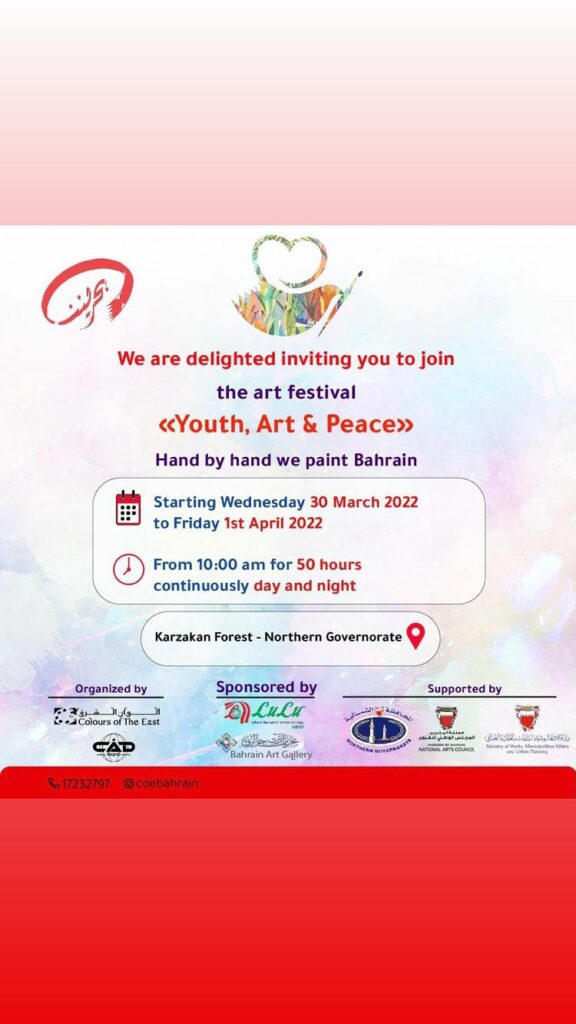 This weekend, head over to Karzakan Forest for a one-of-a-kind art festival by Colours of the East.
Contact: 1723 2797
Have a great weekend!!
READ MORE:
This Youth Forum in Bahrain Is Providing a Platform for Future Entrepreneurs
READ MORE:
Your Ramadan Shopping Is Taken Care of at This Pop-up Market in Bahrain
READ MORE:
You Need to Head Over to This Soulful Concert in Bahrain Over the Weekend