Ford at it
No, it's not April fool's day and no, we're not kidding, this is real news guys! Ford has created a fragrance to smell like gasoline and rubber tyre, basically new car smell in a bottle. The company has stated that the concept behind this rather unusual idea is an extensive research which states, 70 percent of electric car buyers said they would miss the smell of gas when switching to a plug-in vehicle.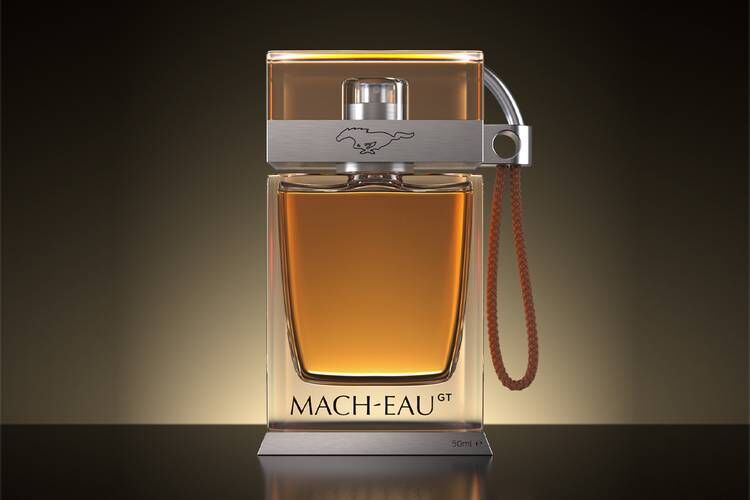 The fragrance is called Mach-Eau and is not for sale but yeah, samples would work to kill the curiosity! Ford has stated that the fragrance is "designed to please the nose of any wearer; a high-end fragrance that fuses smokey accords, aspects of rubber and even an 'animal' element to give a nod to the Mustang heritage." This probably is to promote the upcoming Mustang Mach-E GT!
Feel free to respond to this news the way you want!
READ MORE:
Great News! Bahrain May Use Nasal Spray to Combat COVID-19
READ MORE:
WhatsApp Has a New Feature and Honestly It Seems a Bit Familiar
READ MORE:
We've Got All the Deets for "Battle of the Phones: Google vs. Apple"
عطر جديد من فورد
لاتخافون مو يوم كذبة نيسان (أبريل) ولا إحنا نمزح، هذا خبر حقيقي ! ابتكرت فورد عطرًا يشبه رائحة البنزين والتايرات المطاطية، ورائحة السيارة الجديدة الفريش كله في زجاجة عطر. صرحت الشركة أن المفهوم الكلي من ورا هذي الفكرة غير العادية هو بحث مكثف ينص على أن 70 بالمائة من مشتري السيارات الكهربائية قالوا إنهم سيفقدون رائحة الغاز عند تحول السيارات إلى العمل بالكهرباء.
يُطلق على العطر اسم Mach-Eau وهو ليس للبيع ولكن نعم ، ستعمل بعض العينات منه لقتل الفضول! صرحت شركة فورد أن العطر "مصمم لإرضاء ذوق مستعمليه. عطر راقي يمزج بين نفحات الدخان وجوانب المطاط وحتى عنصر "الحصان" للتذكير بتراث الموستانج. من الواضح أن هذا هو الترويج لسيارة Mustang Mach-E GT القادمة!
لمحبين الفورد وسياراتها!