The annual, most-anticipated event in Bahrain is about to start
The F1 GP is all set to begin tomorrow, March 26th until the 28th, and everyone is already making plans to tune in and celebrate! As we've all heard, only those who have been COVID-19 vaccinated or recovered can attend the GP, but you still have many other options of watching the telecast at different spots around Bahrain! We've put together a list of some spots to celebrate the weekend at, in lieu of our much-anticipated annual F1 concert! Scroll to check them out:
Alto
Some good music from DJ Ersan Erguner to start the night off right, both tonight and Friday night.
Sofitel
Sofitel is giving a special 25% OFF of the resort's F1 brunch tomorrow, just make sure you present your COVID-19 vaccination certificate!
The Four Seasons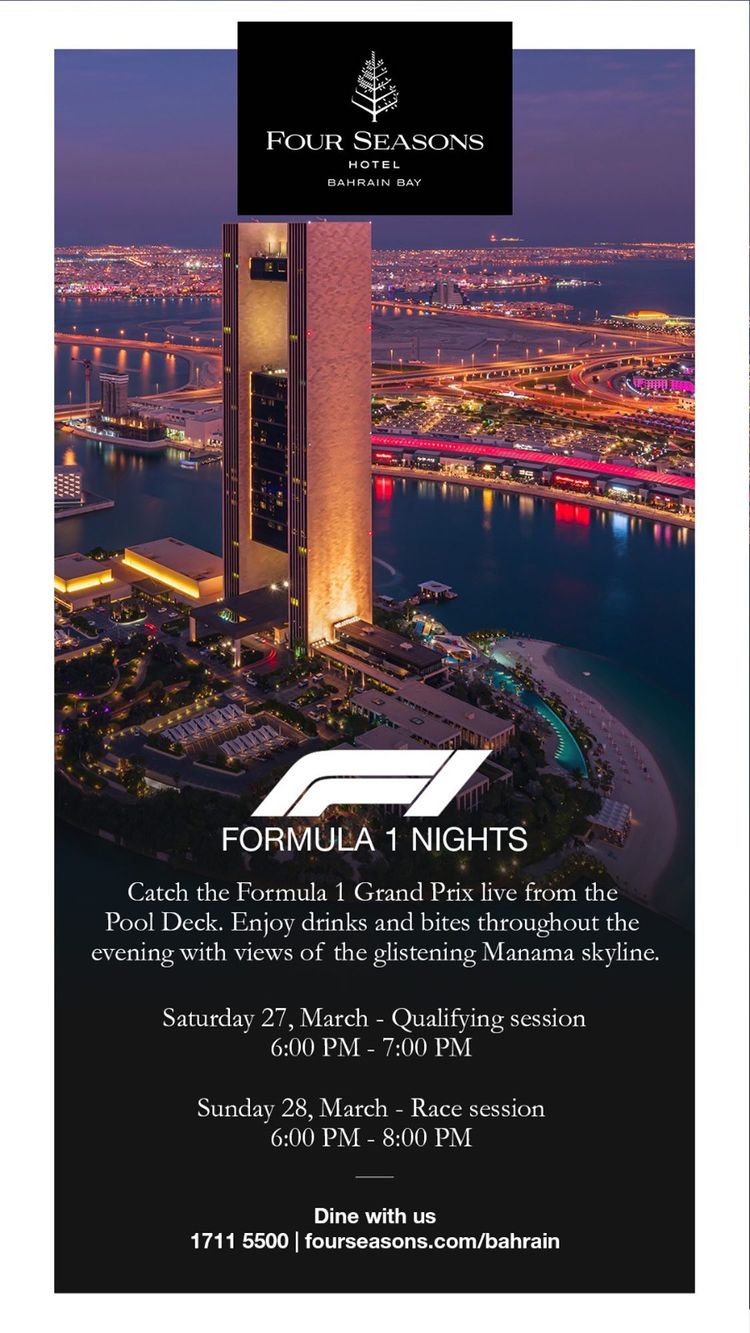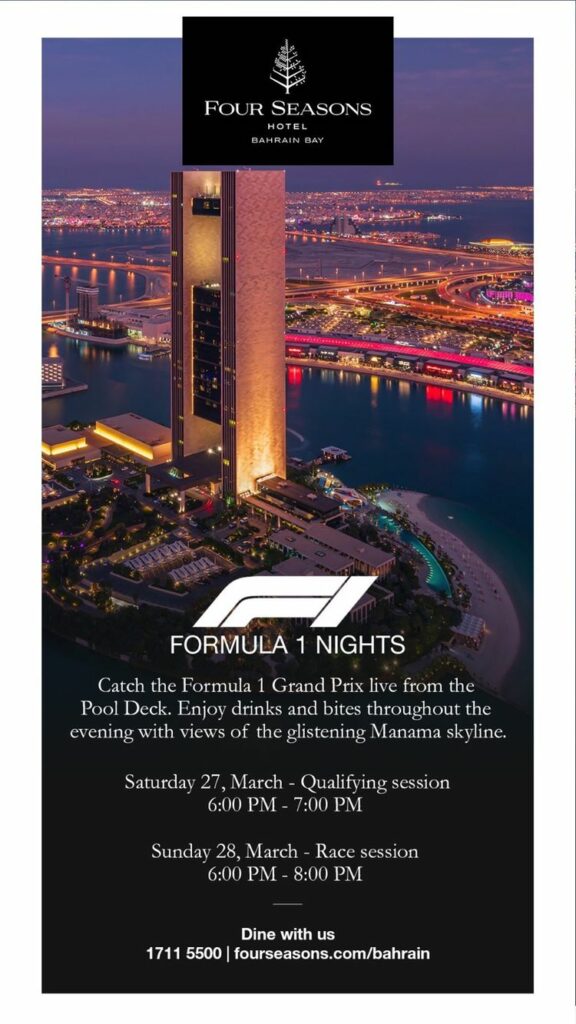 At the FS pool deck, with the best views of Manama! WHile you enjoy some food and drinks, you can catch the Qualifying session on Saturday the 27th, from 6-7pm, and the Race session on Sunday the 28th, from 6-8pm.
CUT
Chef Wolfgang Puck himself is in Bahrain this weekend, so you can count on an exclusive and very special menu! This will be an 'Ode to "Ma Maison" dinner' at the Al Fresco Area – Friday, March 26th at CUT.
Iris
You can enjoy the entire F1 Race Weekend at Iris, from Friday through to Sunday. Iris has got brunch on Friday from 1-5pm, Saturday sessions from 8pm and Sunset sessions on Sunday, from 5-8pm!
The Ritz Carlton
The Ritz Carlton is also about to be all lit up this weekend, too, at La Plage, where you can enjoy a family-style dinner and watch the race on Sunday, March 28 from 7-11pm.
The Terrace
The vibes are set at Jumeirah Royal Saray this weekend, as well! DJ Ego & Julian Mesa will be putting on some quality music to hype up the race weekend, so make sure you call 32223323 to reserve!!
Gallery 21
Another music scene at Gallery 21 Terrace in Adliya tonight, to kick-start the race weekend! Check out any updates on Gallery 21's IG page HERE.
Enjoy your weekend & make sure you catch the race!
READ MORE:
Bahrain Is Under The Spotlight In Netflix's Upcoming F1 Docuseries
READ MORE:
Bahrain Could Host 2 Races Instead of One To Kick Off The F1 Season