Enjoy the Holy Month of Ramadan with delicious Iftar meals.
Looking to order take-out to break your fast? Take a break from cooking and check out our favourite Iftar and Suhour deals around Bahrain. Many restaurants around the island are making Ramadan offers and these are some we thought you'd like! From hotels to international brands and local businesses, check out 21 deals them below.
Hotels
You can choose from 3 set Iftar menus including a selection of cold & hot mezza, soup, main course and dessert and ranges from 22 BD – 26 BD or you can order from the dine-out menu. Call +973 1711 5000 to place a take-out order.
Ritz Carlton
They're offering two Iftar packages, the "Full Moon Box" for 45 BD or 90 BD, feeds 2 or 4 people, and "Half Moon Box" for 35 BD and 70 BD, feeding 2 or 4 people during Ramadan. They include drinks, cold & hot mezzes, soup, main courses, and desserts. Call 17586 499 or Whatsapp 3977 0525 for pick up or delivery.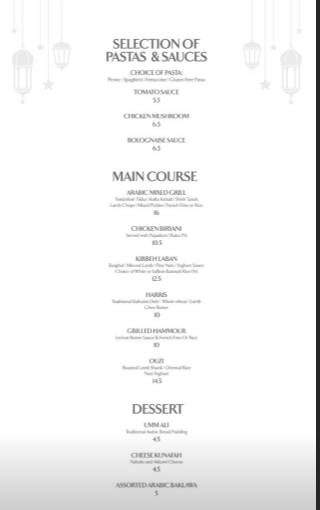 Special Ramadan delivery offers including soup, salad, appetizers, hot & cold mezzes, main courses, and desserts. For orders call 973 77707070. To check out the rest of the menu click the Ramadan highlights on their Instagram page here.
Westin hotel is known for having an exceptional buffet experience but you can now enjoy the Iftar package at home for take-away. For 35 BD and feeding up to 4 people, it includes juice, soup, cold & hot mezzes, main courses, and desserts. To order call 17171152 or WhatsApp 33538150.
Choose from a set or A la carte menu of Persian, Lebanese, or Bahraini style cuisine. When you order from Gulf you'll be making a huge difference to some people's lives as they are taking part of a great initiative where proceeds from all Ramadan orders will be donated to the Al Fares program by Royal Humanitarian Foundation to provide insulin packs for orphan children suffering from Type 1 diabetes. To see the menus click here and to place an order call or Whatsapp 36445585 or 36551222.
Al Areen Palace & Spa
Call to place an order for a lovely Iftar package and choose from Khaleeji, Indian, International and Asian cuisine as well as sweets and pastries. For more menu information and for pick up and take out orders call 36057494.
Crowne Plaza
Special Ramadan feast available for delivery or take out, to place your order and more menu information call or WhatsApp 973 39242391
Downtown Rotana
Iftar set menu at Downtown Rotana offers appetizers, soup, main course, and dessert for 4.5 BD or 18 BD for a family meal of 5. Call 973 33605070 to place an order.
Local businesses
Wingman
This Bahraini based wing spot has a few Stay Home packages which would be perfect for Iftar. Choose from a family meal or individual meals offered for delivery and takeaway. Check the offers here. and order on Talabat.
Mumbai Spices
A great individual Iftar deal from Mumbai Spices Indian restaurant, for 2 BD you'll get drinks, dates, sweets, bread, fruit, soup, hot snacks, and a meal. Call 7373000 to place an order or through Talabat.
Pizza Italian Place
A great deal if you're looking to have some delicious pizza for Iftar. 3 large pizzas for 12.9 BD! Call Call or Whatsapp 17100041 for free delivery.
Big Bostons
Enjoy pizza and fried chicken for Iftar if you don't feel like local cuisine from Big Bostons. They have an Iftar Meal deal for 6.2 BD including a large pizza, 4 pc chicken, and a twister sandwich, definitely can feed 2-3 people! Call 13113000 or order through Talabat.
Caramel Coffee Shop
A different deal every day of the week during Ramadan for Iftar! You can also alternate the main course. Included in the package are dates, laban, soup, salad, an appetizer, main course and a sweet ending. All for 4.9 BD! Call 17797087 for free delivery.
The Orangery
The Orangery is a popular place in Bahrain that people love going to for its ambiance, but since we can't head there now, they've made their menu available for pick up and delivery on their new online order system here. With many Ramadan offers from, you can select what you'd like from sweets, to mezze, to soup and main course.
A great Indian cuisine Iftar meal for 1 BD including a drink, soup, dates, laban, and the main course. Call 34447113 to place an order for delivery or Talabat.
Pastarito
In the mood for some pasta? At Pastarito they have a Ramadan Iftar offer for 5.9 BD you get a pasta or pizza dish with soup, Iced tea and a sweet treat. Call or Whatsapp 17181718 or order from FoodLine.
Hong Kong Cuisine
If you're in the mood for Asian cuisine, Hong Jong has a Ramadan offer of 20% off the entire menu plus free delivery. Call Riffa, 77661661, Seef 17484048, or Hala Plaza 17661668 to place your order and view the menu on their Instagram page on the Menu highlight.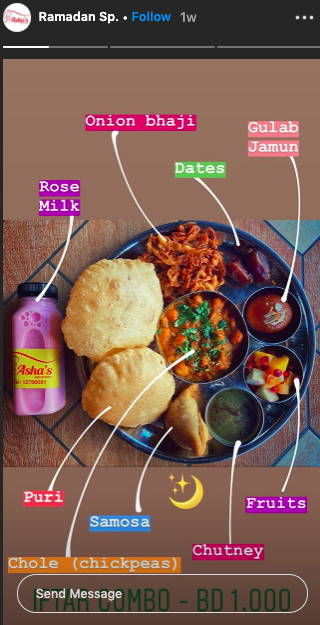 If you're in the mood for Indian cuisine, Asha's has some Ramadan offers right now. You can get an Iftaar combo for 1 BD or on Talabat order a Meal for 2 or 4 from 12.5 BD to 25 BD that includes samosas, main courses, and bread.
Shoo Fee Ma Fee
This Lebanese restaurant has a sweet Iftar and Suhour deal on Talabat for 5.5 BD you can get a soup, salad, main dish and a dessert served with dates, samosa, and laban drink. They are also doing 30% the entire menu for delivery and take out orders!
Shake Shack
The beloved burger chain restaurant is doing Ramadan offers, for 1 Shack box that includes a burger fries, a soda and comes with a free concrete or hot dog for 3.5BD. Order through Talabat or Carriage.
Eet Fresh
Looking for something healthy for Iftar, check out this spot's Ramadan deals. A family pack of Burritos or Salad is 7.5 BD on Talabat, or call 66706020 to place an order,