December is filled with a festive aura, and our favorite part is all the great events that come with it. This weekend is super special, too – it's Christmas! And we have only the best line-up of exactly where you should be to celebrate.
Here are our top picks
These are the spots where you absolutely have to book a spot at to celebrate the most beautiful Christmas Eve/Day:
My Cafe
Two days of cozy Christmas celebrations over here! Everyone already knows the vibes at My Cafe are top-class, and we have no doubt that a Christmas brunch here is going to be exactly what we need.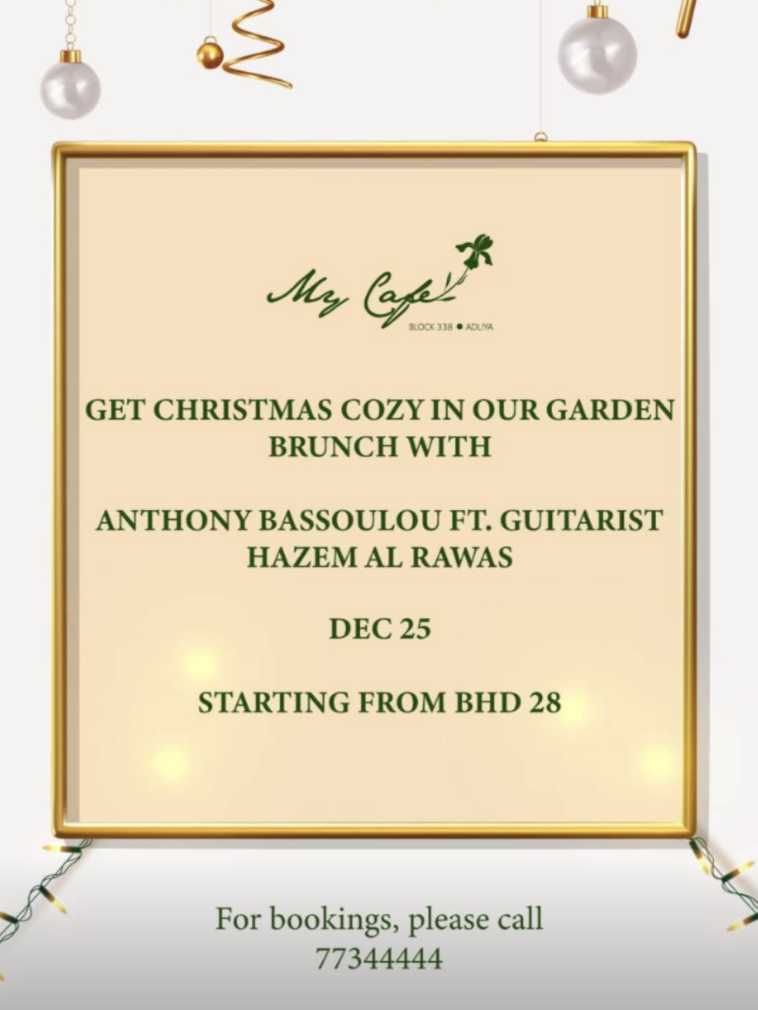 My Cafe had recently taken to the outdoors with a beautiful garden extension, and Christmas is about to be celebrated out there as well. It doesn't stop at Brunch though, there'll be some live entertainment featuring Anthony Bassoulou and guitarist Hazem Al Rawas – making the whole experience THAT much more special!
WHEN: December 25th, Christmas Brunch – price starting at 28 BD
Call 7744444 to make your booking!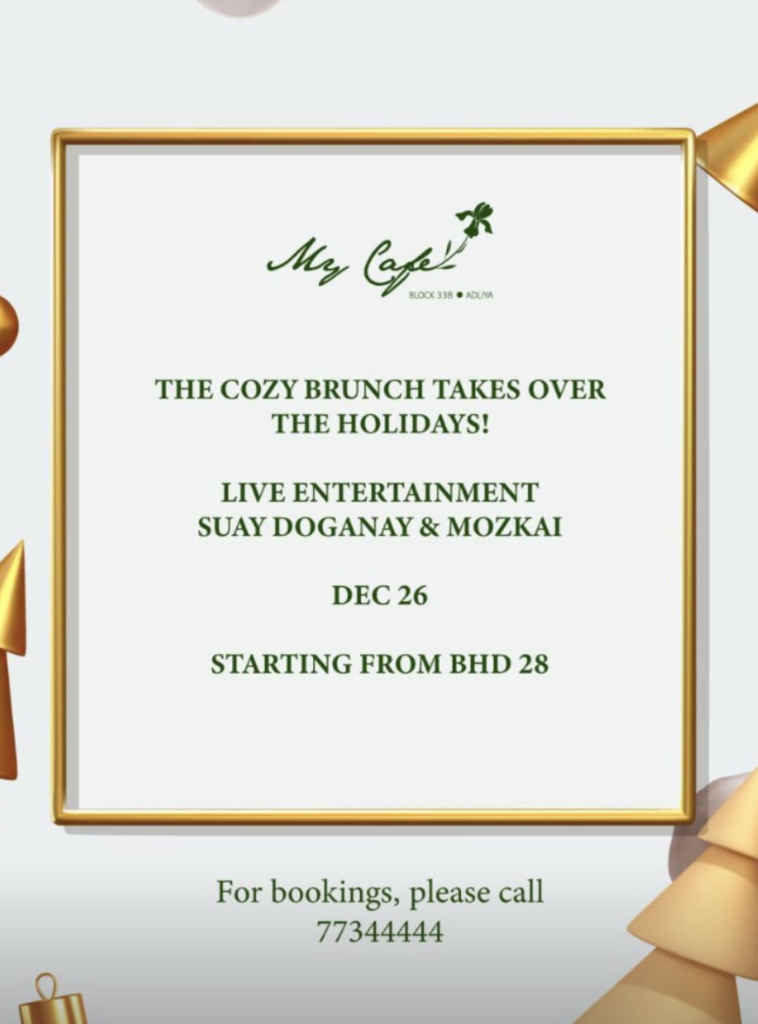 'Cause one day at this spot is simply not enough. If you don't catch a spot on the 25th, you can enjoy another special Christmas Brunch on the 26th. Again, with LIVE entertainment – this time featuring Suay Doganay & Mozkai – to elevate your entire brunch experience.
WHEN: December 26th, Christmas Brunch – price starting at 28 BD
Call 7744444 to make your booking!
Mahonia
This spot's Christmas setup is so special that dinner on the 25th is already fully booked. Don't worry, though, we can still find a few spots on the 24th – if we're lucky!
Mahonia even has a special Christmas Takeaway menu that's available throughout the whole weekend, just make sure you order a day ahead!
Call 37222244 to book your dinner – before it's too late!!
Gallery 21
A Special Christmas Set put together at Gallery 21 this year, full of flavor to celebrate the holidays the right way!! Both lunch and dinner options, on two days – December 24th and 25th.
PRICE: BD21 net per person ( includes set menu + water, softdrinks & juices)
Bd30 net per person ( includes set menu + selected beverages for 2 hours)
Call 17711600 for more booking details!
Crowne Plaza Bahrain
Crowne Plaza completely simplified a wonderful Christmas experience for us, and we can choose between two beautiful festive dinners with absolutely no fuss – fully-catered and sounding more delicious than ever right now!
⠀
Here are the Christmas packages you can choose from:⠀
BD 40 net – for 4-6 people
One Christmas Hero (Medium) with all the trimmings and choose one dessert from the selection
BD 60 net – for 10-12 people
One Christmas Hero (Large) with all the trimmings and choose two desserts from the selection⠀
⠀
Call or WhatsApp +973 1753 1122 or +973 3841 1272 for more details.
InterContinental Regency Bahrain
A one-off holiday celebration right here – a Christmas BBQ at InterContinental Regency with a menu we're already drooling over. Fully equipped with live stations of seafood and meat selections, 'cause we all love an abundance of food choices!! Serious winter and holiday vibes coming together over here, and we're craving all the above right about now.
Date: 24th December
Time: 6:30 pm – 10:30 pm
Price: BD 24 net – Soft Beverage Package // BD 34 net – Alcohol Beverage Package
Call or WhatsApp 17227777 to reserve your tables!
The Presidential Christmas
You can also end the night right here, at InterContinental Regency's Presidential Suite, where you can complete your entire Christmas experience!! You'll enjoy a fabulous culinary journey of the hotel Chef's 'special festive creation.'
WHEN: 24th – 26th December
PRICE: BD 28 net – Soft Beverage Package
BD 38 net – Alcohol Beverage Package
Call or WhatsApp 17227777 to reserve your Presidential suites!
Other Options
Other spots are also planning some celebrations, here's where you can still find a booking:
The Gulf Hotel Bahrain
Fusions By Tala
Al Areen Palace and Spa By Accor
Art Rotana Amwaj
ART Rotana Christmas Take Away
Oliveto Bahrain
Oak
Le Meridien City Centre
Salero
The Orangery
Sofitel
Merry Christmas & stay safe to everyone who's celebrating!
READ MORE:
10 Spots For Traditional Breakfasts That'll Get You In The Bahraini Mood
READ MORE:
Dine Under The Stars At This Resort Near Sakhir
READ MORE:
5 Reasons To Visit This Lovely Tearoom This Weekend