Luxury and the real deal
Movies are getting better 'cause UAE based Emaar Entertainment has partnered with Eagle Hills Diyar to open Reel Cinemas in Bahrain. The new Reel Cinemas will be a part of Marassi Galleria, a one of a kind shopping mall which is currently under construction.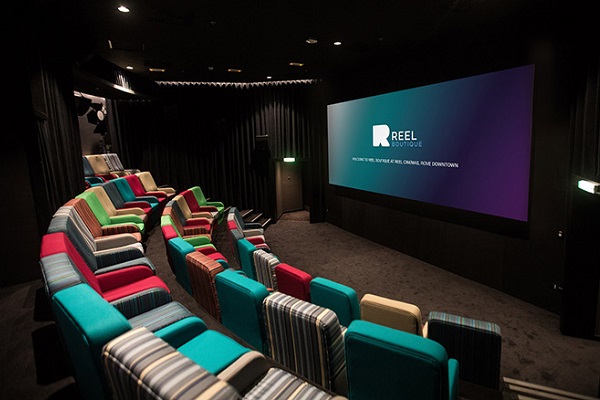 The first Reel Cinemas in the Kingdom will feature 10 screens equipped with advanced cinema technology, Dolby acoustics' immersive sound, and hey! Comfortably adjustable, luxurious seating! Not just that, you'll get a specially crafted F&B menu along with Reel Cinemas' Dine-In cinema concept. All this will a part of the state-of-the-art, Marassi Galleria.
The Marassi Galleria Mall is expected to be completed by H2 2022 and will also feature the coolest aquarium ever, read all about it HERE. We absolutely can't wait and are super stoked to witness what's in store!
Get that watch list moving!
READ MORE:
Things To Check Off Your Bucket List in Bahrain- Fun for All Ages
READ MORE:
9 Incredible Photos Of Nurana Islands That'll Make You Want To Visit ASAP
READ MORE:
Check Out This Bahrain Based EMS Fitness Center to Hit Your Workout Goals
سينما ريل راح تفتح في البحرين و راح نشوف كل الأفلام إلي بخاطرنا
حركة الأفلام قاعدة تتحسن و الفضل يعود لشركة إعمار للترفيه في الإمارات العربية المتحدة إلي دخلت في شراكة مع إيجل هيلز ديار لإفتتاح سينما "ريل"  في البحرين. و ريل سينما الجديدة راح تكون جزء من مراسي جاليريا، وهو مجمع للتسوق فريد من نوعه قيد الإنشاء حاليًا.
ستضم صالات ريل للسينما الأولى في المملكة على 10 شاشات مزودة بتقنية سينمائية متقدمة، و سماعات دولبي الصوتية، و بعد! كراسي مريحة فاخرة قابلة للتعديل! مو بس هذا، راح تحصلون بعد على قائمة أكلات ومشروبات معدة للحصول على وجبات الطعام في الReel Cinemas. كل هذا راح يكون جزء من مراسي جاليريا الجديدة.
من المتوقع أن يتم الانتهاء من مجمع مراسي جاليريا بحلول النصف الثاني من عام 2022 وراح يحتوي أيضًا على أروع حوض مائي على الإطلاق، اقرأ كل شيء عنه هنا. حدنا متحمسين للمشروع!
عشاق السينما والأفلام إستعدوا!