Planning on heading to a beach in Amwaj this weekend? If so you've come across the right article! It's official, you'll now need a temporary resident card to access areas like beaches if you live in Amwaj. The new update was made on this month's issue of the Amwaj Islander, an online newsletter with information about the area, from things to do to and general announcements. This new card is only issued out to Amwaj Island residents who will need to carry it on them at all times while roaming around inside Amwaj.
A statement was also posted on Amwaj Island's official Instagram account announcing the new card
The new resident card could curb the spread of the virus
The decision was in response to the island's efforts to combat COVID and minimize the flow of people on beaches and public areas in Amwaj. The resident card provides access to Amwaj beaches like Saraya Al Bahar, which is now gated and security will need to see this card on you to let you in.
The card also acts as a precautionary action to reduce crowds, which is a step Amwaj Islands is trying to take according to the newsletter;

"As per the rules and regulations in place by the National Medical Taskforce to Combat COVID-19, we urge all residents and visitors of Amwaj Islands to continue limiting overcrowding in any given area and ensure social distancing"
The Lagoon Park where people often go for walks, won't be gated
Here's how to get a card if you live in Amwaj:
There is no fee for the temporary resident cards and all you have to do is follow these steps below.
Head to the Amwaj Management office, the ground floor of Meritas House.
Click here for the location.
Bring the following documents:
Your CPR
Tenant/Ownership proof of residency in Amwaj
A Photo (passport size)
Some residents had mixed reactions over the new cards
There were a few reactions under the social media announcement on Amwaj Islands official account, some noting this was a good initiative while some noted other precautions the islands could take: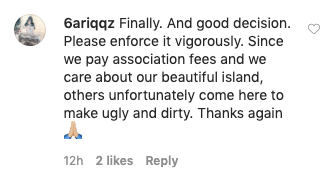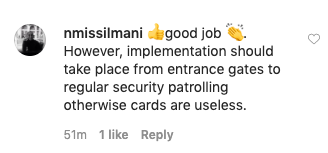 For more Amwaj updates click here for their newsletter.