*Sponsored by Foosco
It's no secret that Megachips has seen all stages of our lives in Bahrain. We ate it on the schoolyard, during lunchtime, at home watching movies, and at birthday parties.
There's something about this brand of chips that is super enjoyable, could be all the tasty flavors, but also because of the Bahraini pride!
This chips low-key needs more recognition, read below to know why you should switch over to Megachips if haven't already.
1. The brand is a pure Bahraini brand
The company has been making chips on the Island since 2013. Before that, they've been a catering company since 1983! Not only is that super impressive but is also a testament to how much Bahraini residents have been enjoying Foosco products for over 35 years! From their manufacturing up to their package design, everything about these are 100% Bahraini.
2. They've got a TON of flavours to keep things interesting
The undisputed fact that it is the best-flavored chips in town and has to be the number ONE reason for this snack taking over your kitchen shelves!
Of course, you can never go wrong with cheese mino or salt & vinegar, but they've got A LOT of flavor variety, from yogurt and herbs to fresh chili and salsa. Their newest Paprika flavor is about to drop this month.
Take your taste buds on a journey!
3. All their chips have considerably lower salt content than others
The company ensures they use only the best raw ingredients with the best equipment from the world. In addition to that, they are preservative-free and only use natural colors. Their chips have lower salt content than other chips' alternatives. You can definitely taste it in the quality!
4. They use technologically advanced production of chips that increases efficiency
These machines efficiently line up and cut fresh potatoes, preps them, and are immediately packaged. That's why they taste SO fresh!
5. They taste great in sandwiches
If you haven't tried putting chips in your sandwich you're seriously missing out! Megachips are fantastic alone but they also are versatile snacks and go so well INSIDE a sandwich. Try out the cheese and onion flavor on top of a burger the next time you have one and you'll never look back.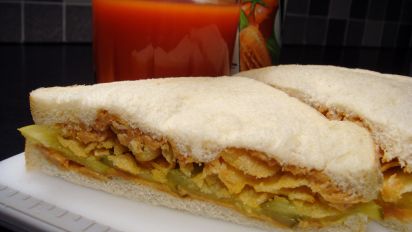 6. EASILY ACCESSIBLE all over
Megachips is the easiest to find all over Bahrain since they are available in all the leading big or small stores. You just have to crave the chips and they are right around the corner from wherever you may be!
7. Their chips are reaching global markets and are in high demand
Not only are they selling in Bahrain, but their reach has now expanded. This all Bahraini chips is headed to Saudi Arabia, Palestine and many other nations because of their unbeatable taste.
Do your taste buds a favor and munch on Megachips!