Did we just say free?
Here's the thing. Most places that you can visit in Bahrain are actually low to no cost. What's beautiful about Bahrain is that there's a lot of things to do for free and it's a great way to explore as much of the island as you want! There's so much history, innovation, beautiful architecture and things to do on the island and here are a few of our favorite spots to check out.
Arad Fort
Visit this 15th-century fort and walk around to experience a past time. Open from 9 AM to 6 PM and can be found in Arad
Jasra House
A historical Bahraini house that's been restored and is open to the public. Open from 9 AM – 1 PM | 4 PM – 7 PM and located in Jasra Village that's known for being the hub for Bahraini art, textiles, and traditional crafts.
READ ALSO: 9 Traditional Sites To Visit To Get To Know Bahrain
Mohammed Bin Faris Music House
The owner of this house was known for shaping the voice of Bahraini traditional music and it is now used as a venue to host traditional music shows and keeping the tradition alive. Find it in Muharraq open from 8 AM – 1 PM & 4 PM – 7 PM from Saturday to Thursday.
The Arabesque Art Gallery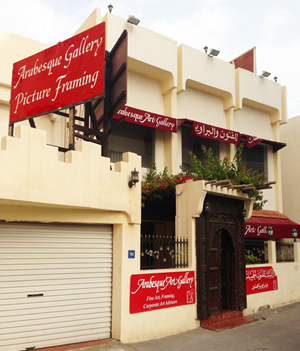 A gallery that's been open for 40 years and should definitely be on your bucket list if you're an art buff! Find art by Bahraini artists as well as old maps, and antique art. Find it in Adliya open from 9 AM – 7 PM from Saturday to Thursday.
Al Bareh Art Gallery
An art gallery dedicated to promoting contemporary art from the Middle East, uncovering talents and curate unique concepts. A great artistic space that often holds exhibitions. Find it in Adliya open from Saturday to Thursday 9:30 AM – 2 PM & 4 PM – 8 PM
A'ali Pottery
Clay pottery making has been around in Bahrain since 2000 B.C. Visit this spot to see the tradition carried on to this day. Try it out yourself or make a one of a kind purchase. Open from 8 AM – 6 PM daily. Find it in A'ali.
Gold City
The biggest jewelry center in Bahrain, if you're shopping for some authentic gold this is the place to be but also a really nice place to walk around in. Find this spot in Bab Al Bahrain open from 10 AM – 10 PM.
City Centre
City Centre is one of Bahrain's popular malls, it's spacious enough to walk around, shop, dine, and there's also a movie theatre, a bowling alley, a gaming center, and a waterpark. They often have cultural or entertaining events going on too. Overall a good spot for shopping or walking around and it's family-friendly. Find it in Seef open from 10 AM to 10 PM and until midnight on weekends.
Al A'ali Mall
Find it in Seef, this mall is quite unique in that it features traditional markets rather than regular mall stores and the ambiance feels traditional rather than too modern which is very comforting. It's not a very busy or crowded place so you can walk leisurely, notice the high-end boutique-like shops and definitely try out Lumee Cafe if you're hungry. Open daily from 10 AM – 11:30 PM.
Muharraq Souq
Find it in Muharraq this strip is one of the oldest traditional markets in Bahrain if not the oldest market street in Bahrain. You'll find Bahraini sweets, herbs and spices, nuts and fruits, perfumes, snacks, clothes and much more over here. It's a great spot to buy in bulk and also support the local community. Also in this area, you'll find a lot of traditional houses and heritage sites so it's worth the visit! Just walking around is quite an experience. Parking is crazy here so either park somewhere and walk, or take an Uber unless you're a patient person then parking isn't that bad.
READ ALSO: 10 Traditional Bahraini Spots You Should Know About In Muharraq