India and Bahrain have had a historic relationship that's lasted 50 years. And in these 50 years, both countries have gained quite a lot from each other. And to showcase this historic bond, the Bahrain National Museum is showcasing three earthen vases that are thought to be from India. The vases were unearthed at the Dilmun burial mounds, and are a testament to both country's influences on each other.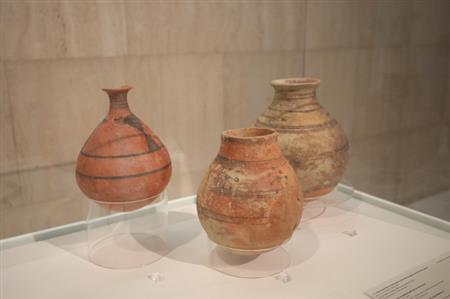 The 'Object of the Month' in the gallery lobby is a group of three earthen vases whose origins can be traced to Gujarat, a West Indian state. This exhibition coincides with India and Bahrain marking 50 years of diplomatic relations.
Shaikha Hala bint Mohammed Al Khalifa, director-general of culture and arts for the Bahrain Authority for Culture and Antiquities (BACA), took part in a tour of the museum and announced the golden jubilee celebrations taking place during the week.
With the contribution of the Indian community in celebration of the Golden Jubilee of Bahrain-India diplomatic relations, the "Little India" at Bab al-Bahrain boasts different kinds of Indian and Bahraini Food, Traditional handicrafts, and Cultural performances by Bahraini and Indian artists as a fitting tribute to our shared cultural links. — An attraction for tourists and locals through heritage buildings, shops, and the "Made in Bahrain" retail store.
India & Bahrain!
READ MORE:
Getting Green: Bahrain to Plant More Than 50,000 Trees and Shrubs!
READ MORE:
Take This Quiz To Find Out Which The Office Meme Defines You
READ MORE:
Great News: Bahraini Citizens Can Now Apply for an eVisa to Visit Russia
Source: Raji Unnikrishnan