Mohsin Falee, founder of Discipline Academy here in Bahrain is partnering up with a local company for an important cause.
Just a few months ago, Mohsin found out he is diagnosed with Sarcoma Cancer and has been undergoing chemotherapy treatment. Throughout the process, he is sharing his journey on social media, spreading awareness of cancer, while sharing messages of positivity.
In part of his inspiring social media posts, yesterday Mohsin announced that his calisthenics center and Valour Apparel have partnered up to launch a campaign selling t-shirts representing sarcoma cancer, with profits going to cover his treatment costs as well as help other cancer patients financially.
Since then, the post has had an overwhelming response with lots of support from the community!
Thousands of comments flooded his post showing support on social media and was also posted by HH Sheikh Nasser to his IG stories.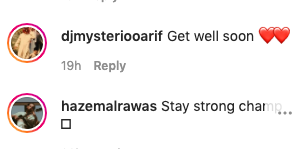 Here's how you can support the campaign:
To purchase a T-shirt DM @academydiscipline on Instagram with this info:
Name
Address
Contact number
Email
T-shirt size and color
Amount of shirts
Payment confirmation (screenshot)
Price: BHD 20
T-shirts available in Black or White and come in kids and all adult sizes.
Payment details:
Iban Transfer: BH36BBKU00200005328503 (Discipline Sports Academy/ Bank of Bahrain & Kuwait)
Benefitpay: 00973 36680448 (Discipline Academy)
The T-shirts will be available to ship worldwide.
Follow along with Mohsin's journey and support him here