65,000 people. 9 villages.
That's the scale at which Rotaract Bahrain is about to create an impact, lasting a lifetime! In Sub-Saharan Africa, the water crisis looms over generations. And this crisis affects women, children, families, and farmers the most.
Project NSUO
Nsuo means 'water' in Twi, the language spoken in Ghana.
10 members of the youth-driven organization, Rotaract Bahrain are all set to travel to Ghana between April 28th and May 4th, to build a water pump that answers the need of the communities living there. Boreholes will ensure that clean water from this source reaches 9 villages around Accra, Ghana!
The project will also include creating irrigation channels that'll aid local farming. A sanitation supply center is in the works as well, along with a plantation drive that the Rotaract team will conduct using the freshwater supply installed in the region!
"Bring me water, not chocolates"
There's a severe lack of access to safe drinking water in the region. With basic necessities of life unmet, there's a lot that explains the rampant poverty these communities face.
And for members of Rotaract Bahrain, this crisis looked them in the eye in the form of a 6-year-old girl living in Bahrain. In June 2021, during a routine Ramadan gift box distribution, this group of changemakers met with a young girl who instead of taking a box full of sweets and treats, asked them for bottles of water she could take home to her people in Ghana.
"She didn't want chocolates. She wanted us to get her bottles of water, so she could take them home to her friends," said President Tanima of the Rotaract team.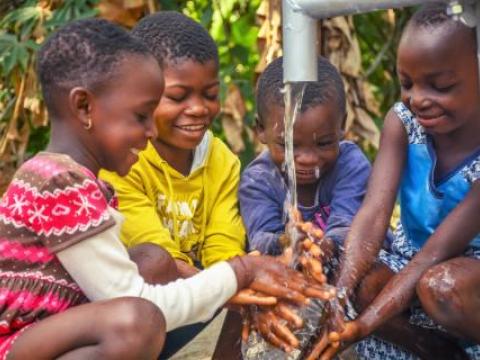 What transpired eight months from there is now an ambitious project conceived in Bahrain that aims to supply clean and safe water to 9 villages and nearly 65,000 people in Ghana!
"Her innocent ask was powerful enough to inspire this entire project. And while she couldn't carry water bottles with her on the flight back home, we're going there to build her and her people a constant supply of water," President Tanima added.
Through Project NSUO, the Rotaract team is keeping the promise made to the 6-year-old!
Education, Recreation, and Memories for the kids!
And the project first stops at the very village she lives in today. Ensuring that she and her friends enjoy the childhood they deserve, the Rotaract team will set up a recreational area for the kids.
And spend time teaching them as part of their Each One Teach One initiative! This will also include creating a holistic learning syllabus for children between classes 1-6 and getting local scholars to continue the cycle of teaching after the team has left.
Eid Celebrations
While there, the Rotaract Bahrain team plans to celebrate Eid with the communities in Ghana! And they're bringing everyone together to hoist Bahrain's flag, creating a sense of solidarity between the two countries!!
An opportunity to do good comes wrapped in the smallest of asks! And this opportunity grew into a project that goes beyond borders!
We are extremely proud of Rotaract Bahrain's initiative!!
READ MORE:
Heartwarming! HM the King Gifts Eid Grant to Thousands of Families in Bahrain
READ MORE:
This Local Photographer Has Captured Stunning Images of the House of Traditional Music in Riffa
READ MORE:
Spotlight: You Need to Check Out the Inside of This Art House in Riffa