Gergaoon is here!
From Henna, face painting, and carnivals, to treats, snacks, and competitions – the fun doesn't stop for your little ones!! We can't wait for this beautiful Ramadan tradition when we get to see our little friends dressed in the brightest jalabiyahs and toubs! And we've compiled a list of places you can head over to with your kids to have a fun-filled Gergaoon!! Scroll down to check out all the places!
Zallaq Springs – April 14th
The Southern Governorate is hosting a Gergaoon event at Zallaq Springs on Thursday, April 14 at 8:30 pm. And anyone can be a part of it!
Souq Al Manama – April 14th and 15th
From henna to storytelling for kids – the Gergaoon event at the Manama Souq is the place to be! Entrance is free for all.
Souq Al Baraha – April 15th
Visit Souq Al Baraha's Gegaoon on Friday, 15th April, 8:30 pm onwards. There are gifts for everyone who wears traditional attire! Enjoy the Fresa band, arts and crafts for kids, henna, food, games, or take a picture with a falcon. Entrance is free for everyone!
Midway Supermarket at Diyar Al Muharraq – April 15th
Join the Gergaoon celebrations on Friday 15th of April from 8 pm to 1 am at Midway, Diyar Al Muharraq.
Sofitel Bahrain – April 15th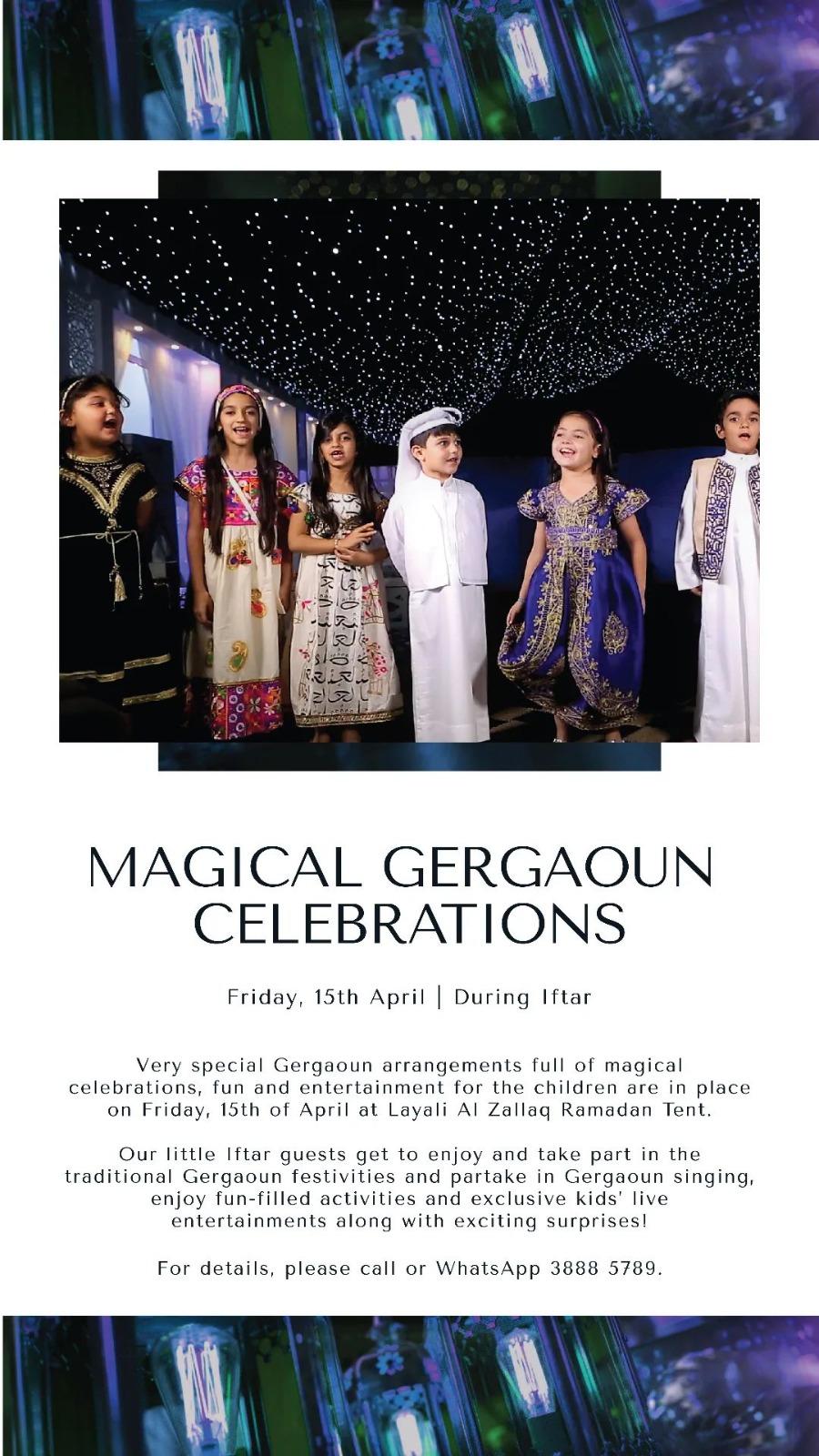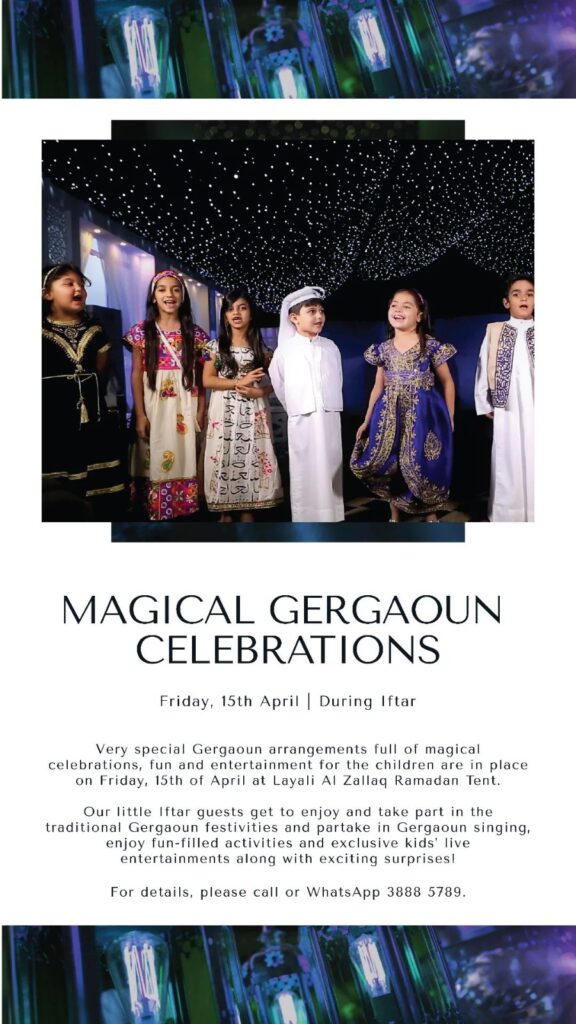 Head to Sofitel's Layali Al Zallaq Ramadan Tent on Friday with your little ones and enjoy all the activities with exciting surprises!
The Lost Paradise of Dilmun – April 15th
LPOD is celebrating gergaoon on Friday. And you can join this carnivaland with your little ones for all the treats and night entertainments.
10 BD – Adults
5 BD – Kids 6 to 10 years old
Mall of Dilmunia – April 15th
Celebrate Gergaoon at the and enjoy live performances like Furaisa and Dag Alhab! Bring your kids for all the treats.
The Gulf Hotel Bahrain – April 15th and 16th
Celebrate Gergaoon at the Khaimat Al Khaleej tent. There are a bunch of activities planned for your little ones! An art competition, a traditional costume competition, and special treats await your kids!
Book your table: 1771 3000
Wyndham Grand Manama – April 15th and 16th
Head to Wyndham Grand this Friday and Saturday with your kids and enjoy the Gergaoon event with special treats for kids!
For reservations, call: 33660312
Seef Mall – April 16th (Seef District) and 17th (Muharraq & Isa Town)
Visit the Seef Mall Gergaoon on 16th April at Seef District (10:30 pm – 12:30 am), and 17th April at Muharraq (10 pm – 12 am) and Isa Town (9 pm – 11 pm)!
Deck up your little ones and head to all the Gergaoon events!
READ MORE:
You Can Learn the Basics of Optic Illusion Art With This Workshop in Bahrain
READ MORE:
It's World Pet Day and Here Are 10 Local Businesses for Our Little Best Friends
READ MORE:
Here's Where You Can Watch the Iftar Cannon in Bahrain