Xenai, a hip hop artist based in Bahrain shared with the world his new track "Fool" alongside a music video and its fiiire.
For one, Xenai's vocals and flow is just so good in this, it's definitely the type of music to listen to on an evening drive. Second, the music video is so well done in terms of storytelling and production quality.
The single "Fool" explores themes of falling in and out of love, feeling heartbreak, but Xenai says it's much more than that
Under his social media post of the music video, he expresses that "it also talks about shedding of the old and bringing in the new. In truth, it is really a conversation between who I am and who I was" That's right… it's a track about self-reflection too.
He continues with this thought; "You will look like a fool when you pursue something that everyone around you thinks you're not cut out for. You will fall and you will get laughed at, BUT you will pick yourself up again and again till finally, the ones who were laughing become the fools, but instead of turning away, you guide and inspire them with love and compassion (a fool's errand).
Xenai's visual for the track is not without a story as well. The music video – directed by Elias Madan and Talha, features Xenai and Gee who make a fantastic team.
Scroll down below to watch the music video!
Reactions under the social media post were very encouraging

Many complimented Xenai's vocals

Lots were impressed by the video and music production quality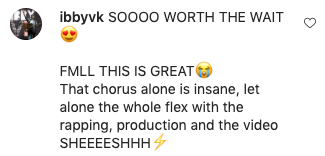 Take a look at the official video here
READ MORE: 5 Reasons Why Fashionistas Will Absolutely Go Gaga Over This App
READ MORE: Drake Raps In Arabic On His New Single 'Only You Freestyle' And The Internet Couldn't Handle It