Another week, another craving!
Guys, you come up with the best recommendations for us every week and we just end up wanting to order the whole list!! Anyway, this week we asked what your fave spot for Arabic pastries was, scroll through to discover the top 10:
Tariq Pastries
The classic over here, can any gathering or gdoo3 be complete without Tariq Pastries' mini pizzas? We don't think so.
The Lebanese Bakery
We cannot hype The Lebanese Bakery up enough! Everything here is soooo good but especially their Ras Asfoor, their meat pide with cheese and pomegranate molasses and Muhamara.
Sameeh
Are you even a local if you haven't tried sameeh yet? You really have to if you want that true local experience! We cannot reccomend their lahm bel 3ajeen enough!
Al Tawah Pastry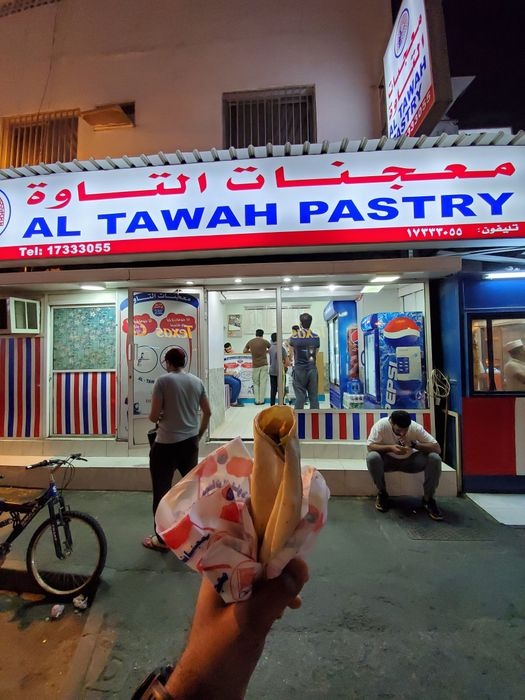 We haven't tried this one out, but it comes very highly recommended so we'll give it a go and let you guys know!
WHERE: Muharraq
Manaeesh Jubran
So many options available here, they've got all kinds of pastries with so many fillings, as well as pizzas and wraps!
Bait Al Manaeesh
Some of the best open-faced pastries over here, including a Nutella filled goodie for all you dessert lovers!
Hi Bread
One of the most underrated spots in Bahrain, they've got so many original fillings. Including one that's halwa-stuffed – a must-try and this goes for their entire menu!
Adam Oven
A true local spot – and they sell fried chicken too? The cheese pull alone on the za'atar and cheese pastry is worth it, honestly!
Fatayer Ala Tayer
We hear the pastries over here are top notch and the prices are pretty good, too! They also have mini pastries that are perfect for gatherings (not that we're having any right now…)
Lumee Street Cafe
We're signing off with a classic ! So many interesting options over here, including a akawi cheese, tomato and herb pastry which is a fan fave – trust us, and get a pot of karak; you won't regret it!
Mu3ajanat anyyy day
READ MORE:
We Asked You What Your Fave Local Curry Spot Was & These Were Your Top 10
READ MORE:
We Asked You What Your Fave Local Taco Joint Was & These Were Your Top 10
READ MORE:
We Asked You What Your Fave Fried Chicken Joint In Bahrain Was & These Were Your Top 12