That's the right way!
Tech race, watch out! Two young Bahraini sisters from Zallaq Primary and Intermediate School for Girls, have created a new device to ensure social distancing, and we're so proud of them. Young girls doing wonders and making a mark already, Fatima and Mariam Al Shaibani have truly impressed us with their talent!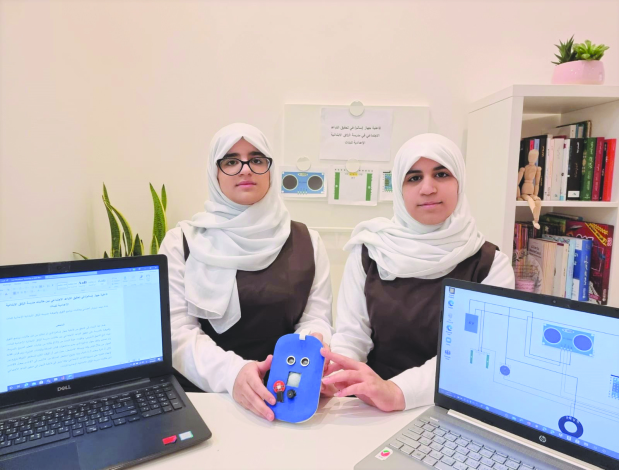 The device is called 'Salim', which means 'Safe' in English and works by beeping and flashing when social distancing is not being followed. This helps in people being aware and conscious about the importance of social distancing in this day and age.
Fatima and Mariam were the winners of a research project which was organized by the Education Ministry and they hope the device to be approved as a national project, as it can be used for purposes like protecting children outdoors and being placed on poles or similar objects to alert people of potential dangers.
It is an amazingly designed device which can be used by disabled individuals or people suffering from low immunity or a contagious disease.
Super proud of our youngsters!
READ MORE:
This Bahraini Artist Will Take You Down the Memory Lane With Her Art Exhibition
READ MORE:
Bahrain Becomes the First in the World to Approve Sputnik V Booster Dose
READ MORE:
Green Up Initiative Is Here in Bahrain and We Feel Fresh Already!
نفتخر بخوات بحرينيات يبتكرون جهاز للتباعد الاجتماعي
سباق التكنولوجيا في تطور! شقيقتان بحرينيتان صغيرتان من مدرسة الزلاق الابتدائية والمتوسطة للبنات يبتكرون جهاز جديد لضمان التباعد الاجتماعي، و كلنا فخر بهالإنجاز. بنات صغيرات في عمرهم كبيرات في عقولهم يصنعن العجائب ويحدثون بصمة في عالم التكنولوجيا، فاطمة ومريم الشيباني أبهرتونا حقًا بموهبتكم!
الجهازأسمه "سالم" ، ويعني "آمن" باللغة الإنجليزية ويعمل عن طريق التنبيه وإرسال الإشعارات عند عدم اتباع قواعد التباعد الاجتماعي. يساعد هذا الإختراع في توعية الناس لإدراك أهمية التباعد الاجتماعي في هذا اليوم وهذا العصر.
فاطمة ومريم فازوا بمشروعهم البحثي المنظم من قبل وزارة التربية والتعليم ويأملون أن يتم اعتماد الجهاز كمشروع وطني ، حيث يمكن استخدامه لأغراض مثل حماية الأطفال في الهواء الطلق ووضعه على الأعمدة أو أشياء مماثلة كتنبيه للناس من الأخطار المحتملة.
الجهاز مصمم بشكل مذهل يمكن استخدامه من قبل الأشخاص ذوي الإعاقة أو الأشخاص الذين يعانون من ضعف المناعة أو من مرض معدي.
نفتخر بمخترعاتنا الصغيرات!