What to do when you're craving both pizza and shawarma? Get a pizzawarma of course!
If you're wondering what a pizzawarma actually is, it's the best of both food worlds, a pizza topped with all the shawarma tastiness that we LOVE in Bahrain. We are a nation of foodies, after all, so naturally, there was a need to create a dish that represents the Arab world on a pizza. And what better way to do this than to fuse together two of our beloved guilty food pleasures!!
If you're mouth is already watering and want to order one ASAP in Bahrain, keep reading to check out 5 spots you can get a shawarma pizza from!
WHAT: This recently opened spot is serving the CHEESIEST shawarma pizza with pepperoni on top! It's a must-try fo sho.
WHERE: Riffa
DELIVERY
WHAT: This pizza spot's pizzawarma is on another level. Sesame seed crust? YES. All the shawarma fixings on top of a cheesy, saucy slice? YES.
WHERE: The Atrium Mall, Janabiyah
DELIVERY: Call 17690133
WHAT: You've got to passby Adleez for their signature shawarma pizza that's almost too goo to be true. Perfectly cooked and sauced up right.
WHERE: Janussan
DELIVERY
WHAT: This spot's shawarma pizza is actual pizzawarma goals. This one's actually got pickles on it too so they're REALLY got the recipe on lock. And that garlic drizzle! Ouf!
WHERE: Deebal Abe, Riffa | Juffair
DELIVERY
WHAT: So cheesy, so shawarma-ey. You can't go wrong with Atlantis Dream's pizzawarma. You definitely MUST TRY this at least once in your life while in Bahrain.
WHERE: Tubli
DELIVERY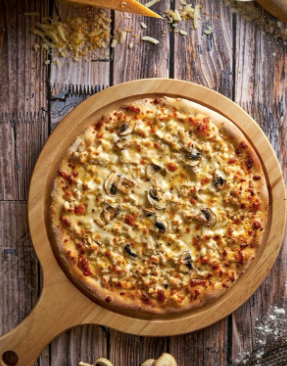 READ MORE:
These Are The Best Shawarma Spots In Bahrain According To LocalBH Readers
READ MORE:
5 Bahrain Spots Where You Can Get Halloumi Fries For The Ultimate Savoury Snack
READ MORE:
9 Unique Sushi Dishes You Should Try In Bahrain If You Are A Sushi Lover